Gorgeous, relaxing spaces
Second to none in Nashville
Designed for a VIP experience
The Studio is spacious and lofty! With a 22 ft wooden ceiling and just under 1,400 square feet, it's roomy and multifunctional. It even has an 85″ display monitor and large studio door to create an indoor / outdoor experience.
You can reserve the first-floor studio alone or add The Loft (kitchen, bar & lounge + shuffleboard & outdoor deck) located just up the stairs.  
This area can be set up with the furniture we have available and included in the cost of your reservation. Alternatively, have one of our event decor partners set it up to meet a specific feel based on your needs.
Want to use it as a music | film production, marketing activations or photo shoot? You're not the only one. We have been there and done that, but we've been sworn to secrecy (to a degree).
Capacity (indoors)
Tables & Chairs: up to 84
Panel or Training: up to 84
Networking: up to 84
Lounge Setup: up to 60
Loft Capacity:
Up to 20 people seated and standing
A super large 18′ x 18′ deck to make this an indoor/outdoor space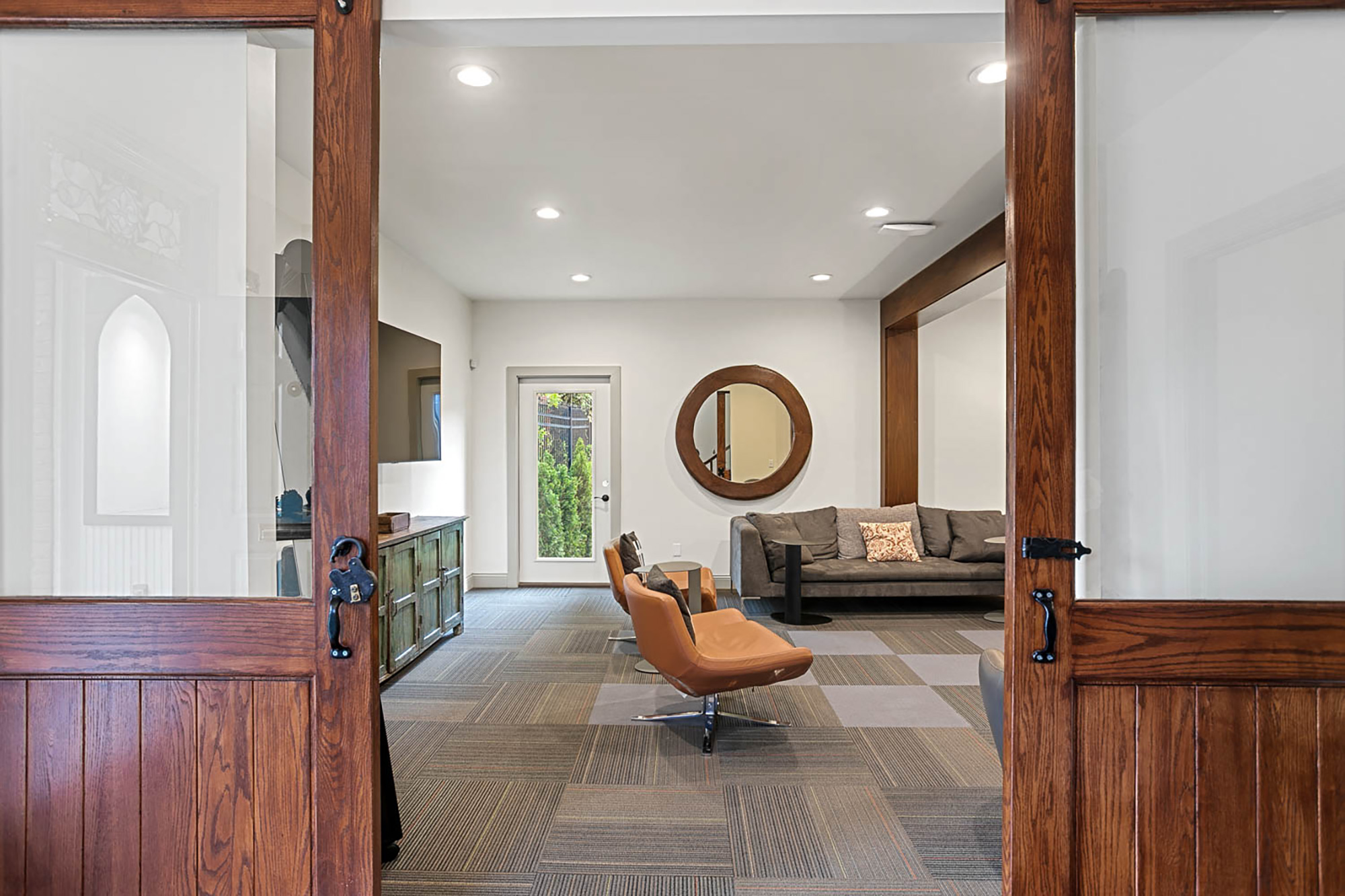 - 1st Floor -
Austin Powers
Room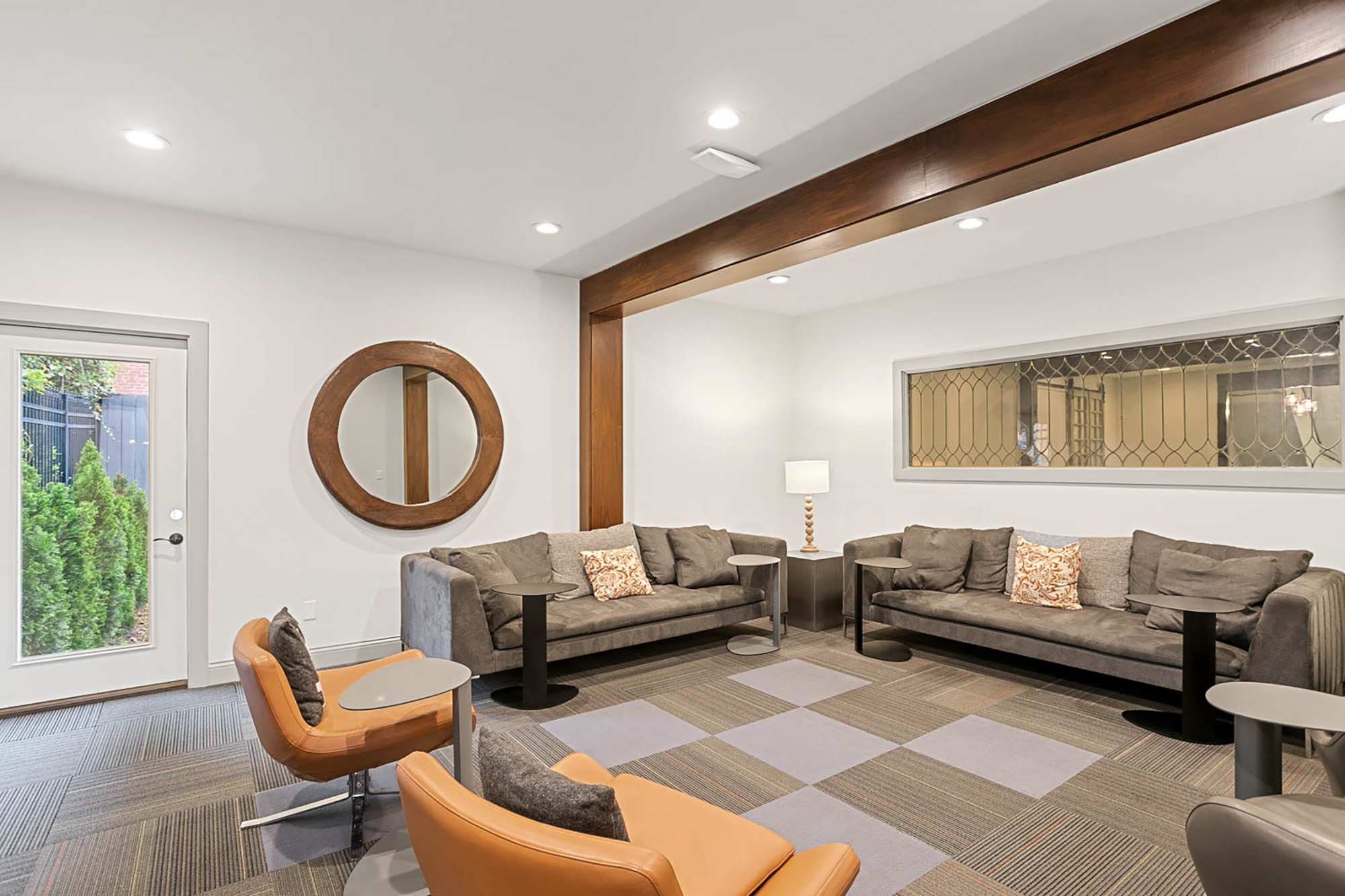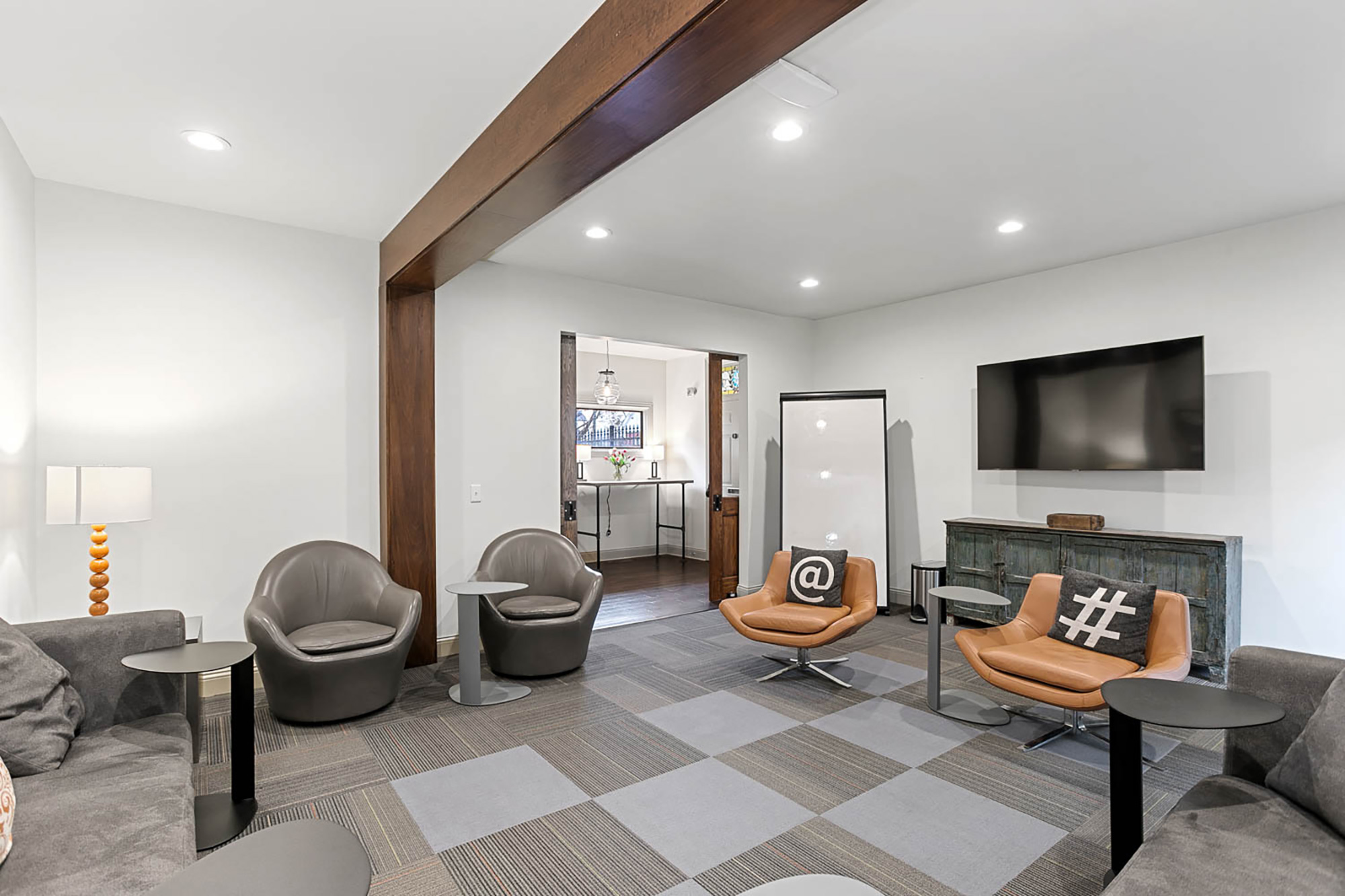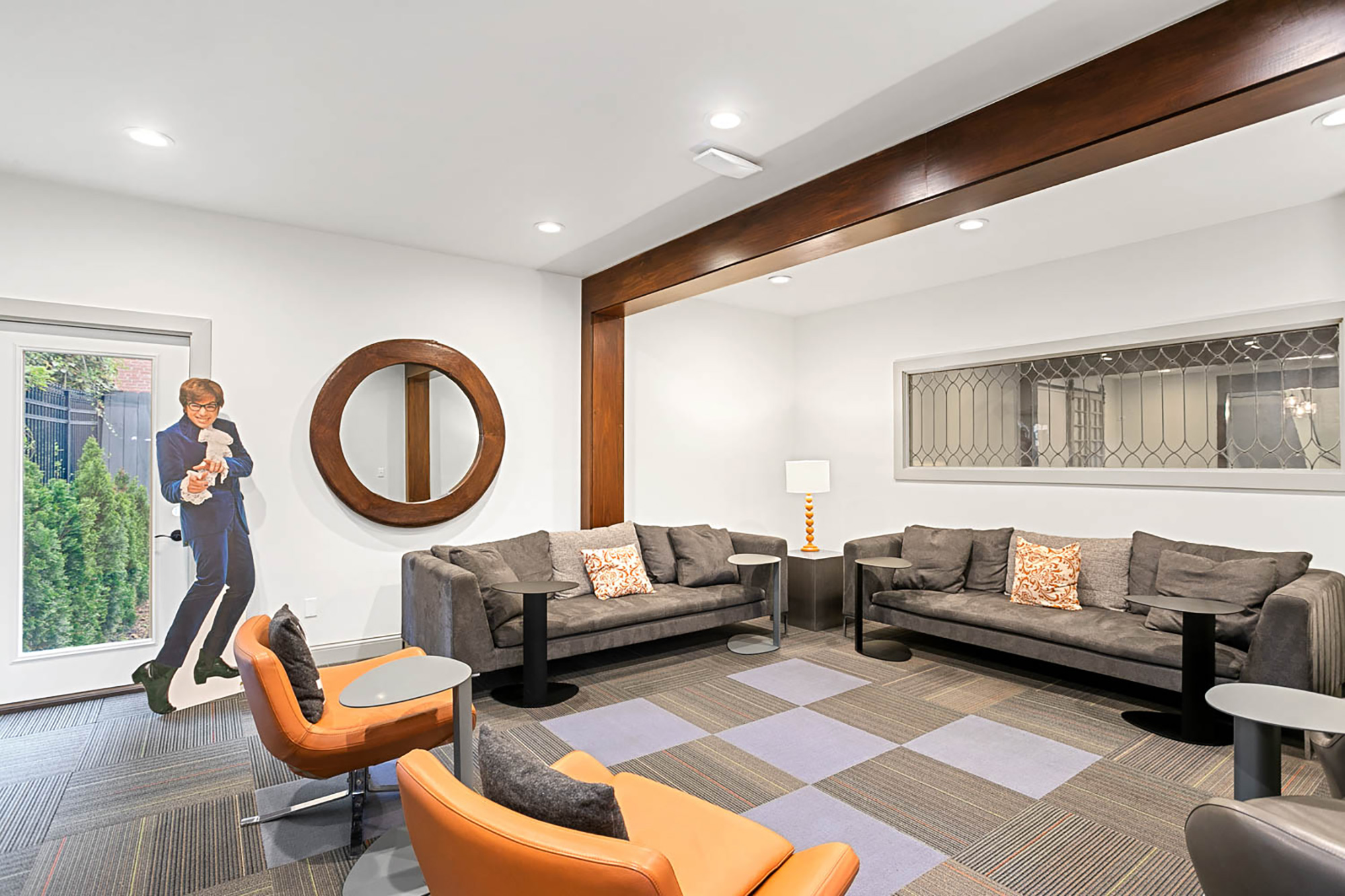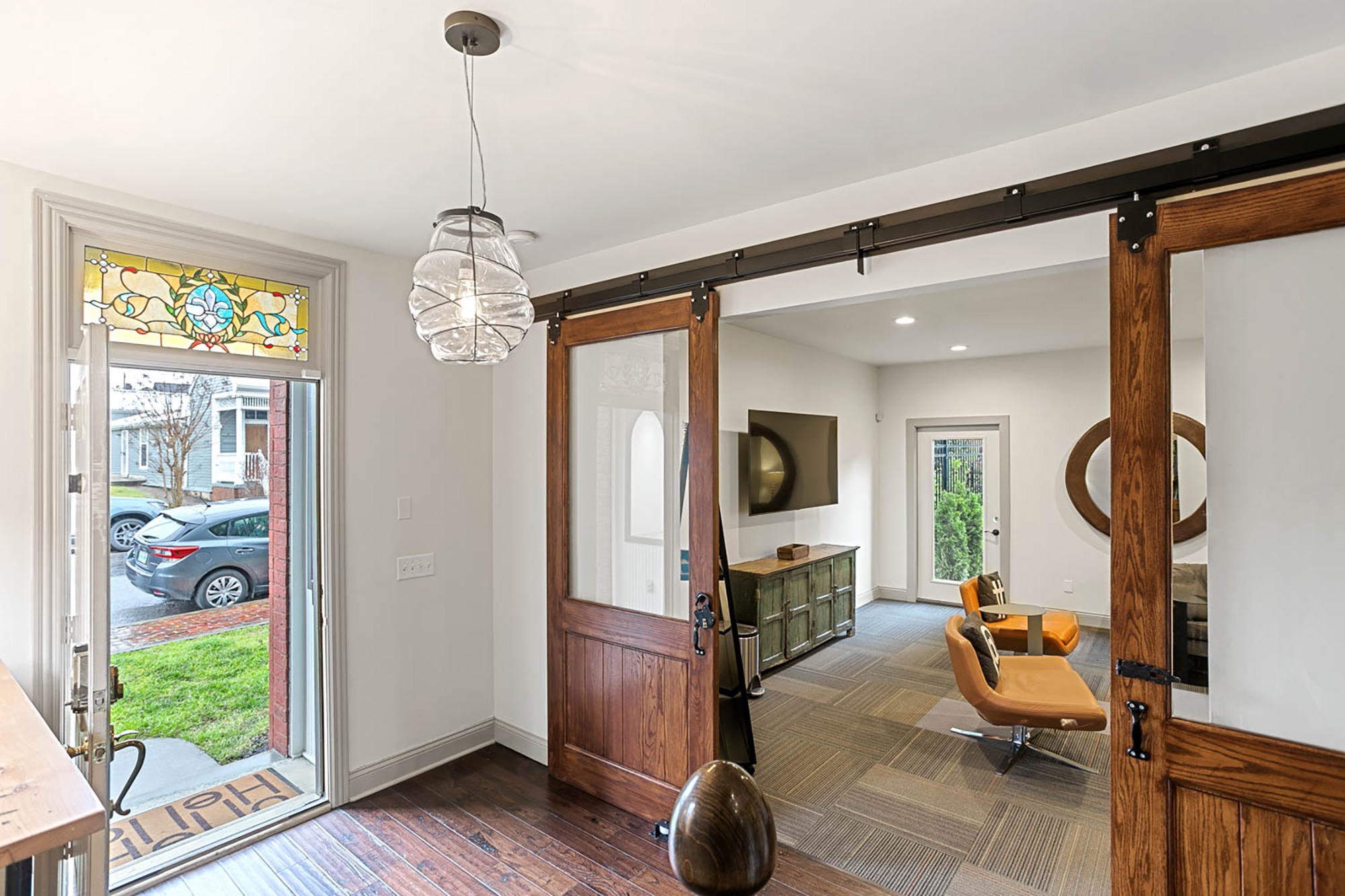 Because it's kinda "groovy baby", the Austin Powers room is an eclectic meeting area that has the comfort of a den or living room. Featuring a portable whiteboard and wireless display, this conference room comfortably seats 10-14. Access to the coffee bar area in the M&M room is just outside the door.
This room is also a great area to utilize for an event and add to a 1st floor or whole house reservation.
Perfect for a brainstorming, strategy or board meetings.
Austin Powers Capacity: 14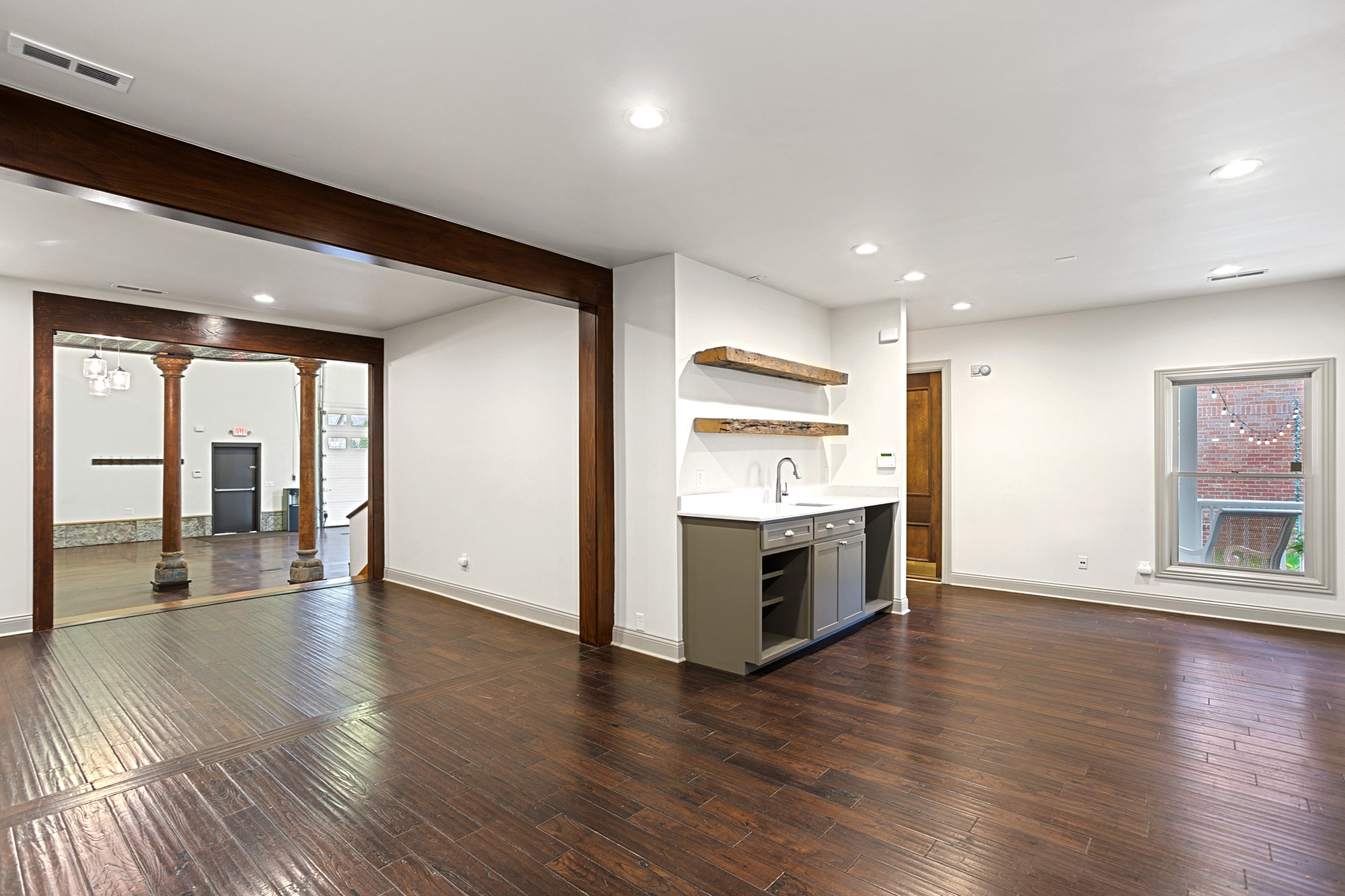 - 1st Floor -
M&M
Multipurpose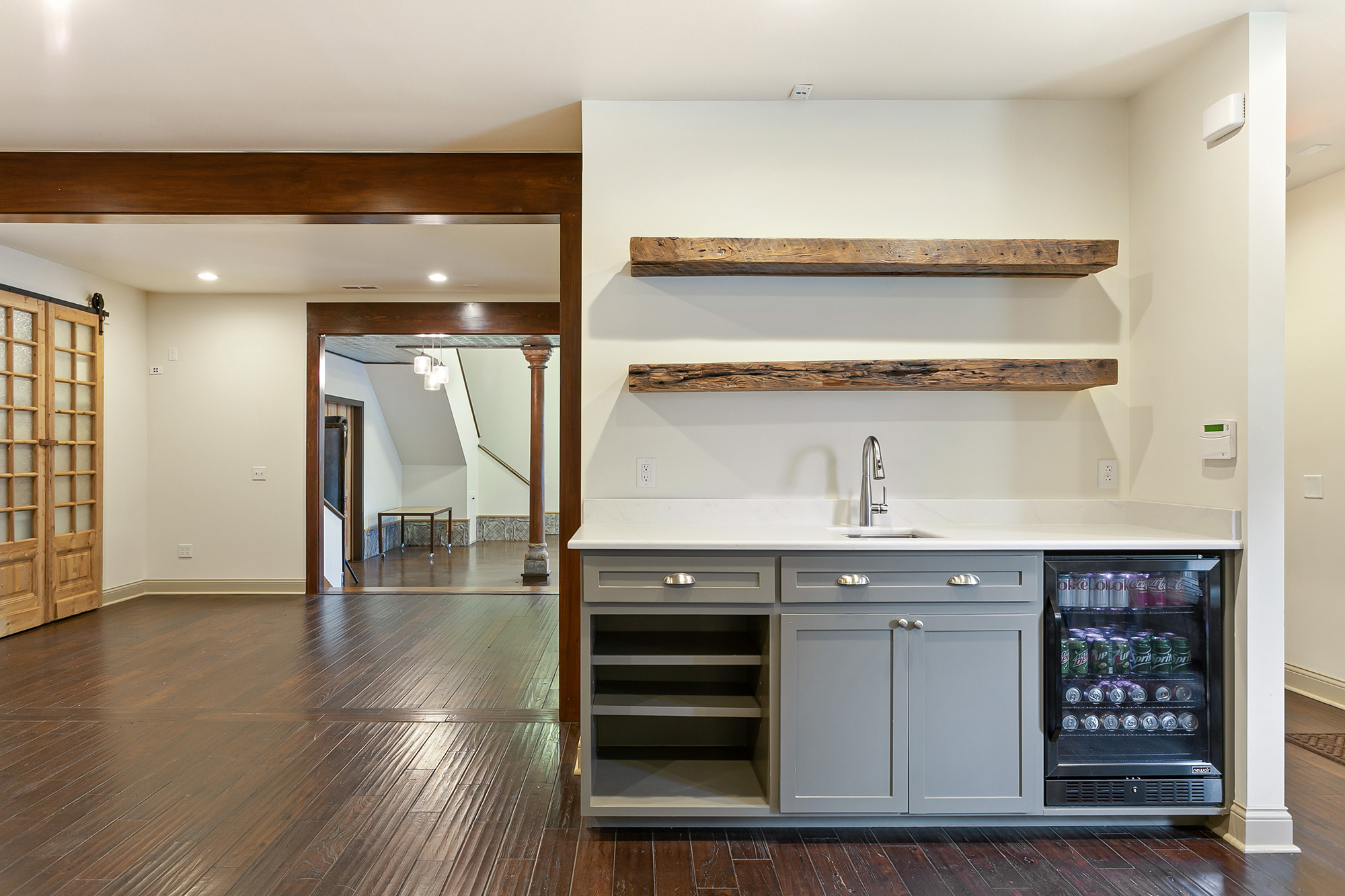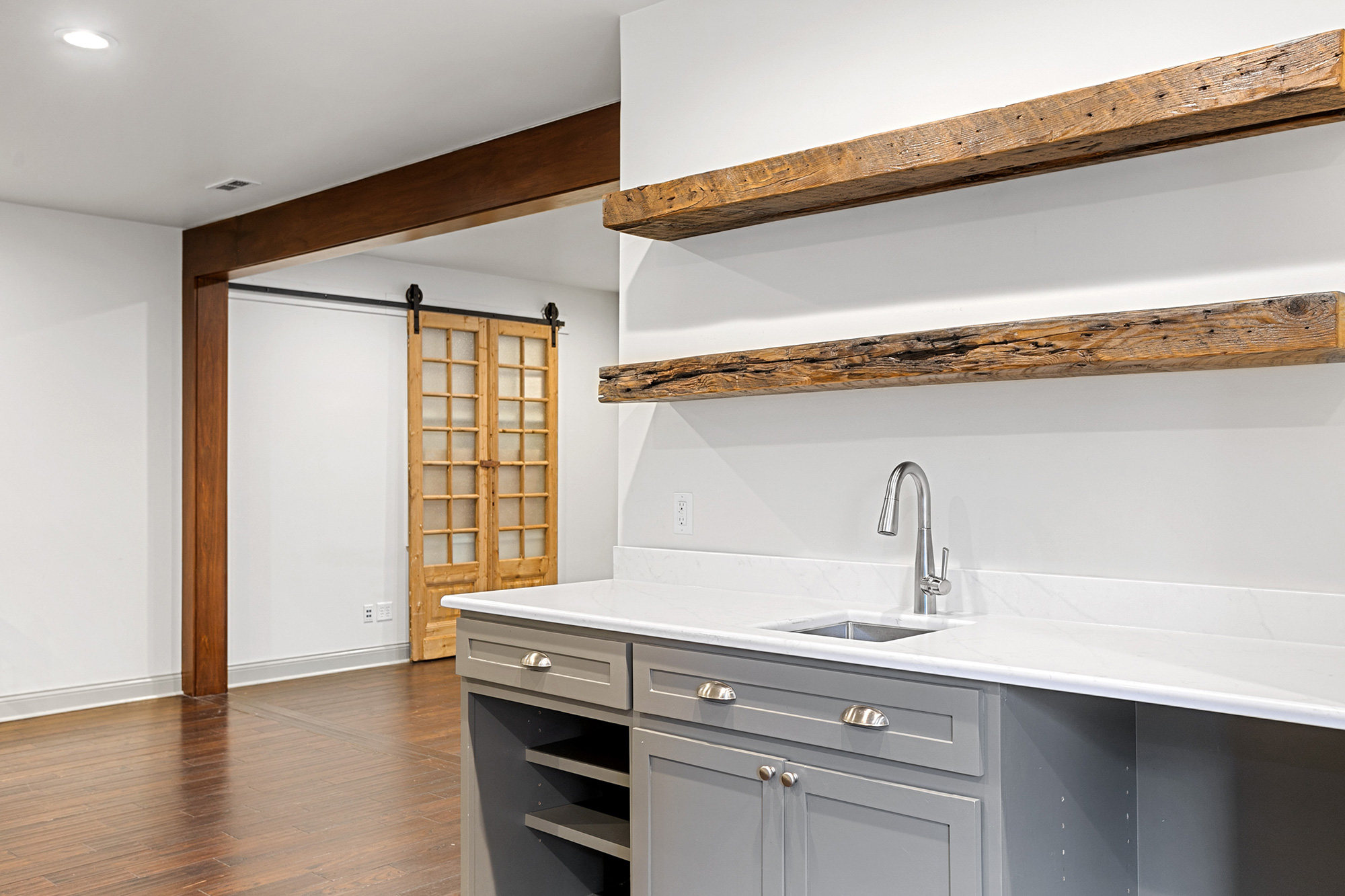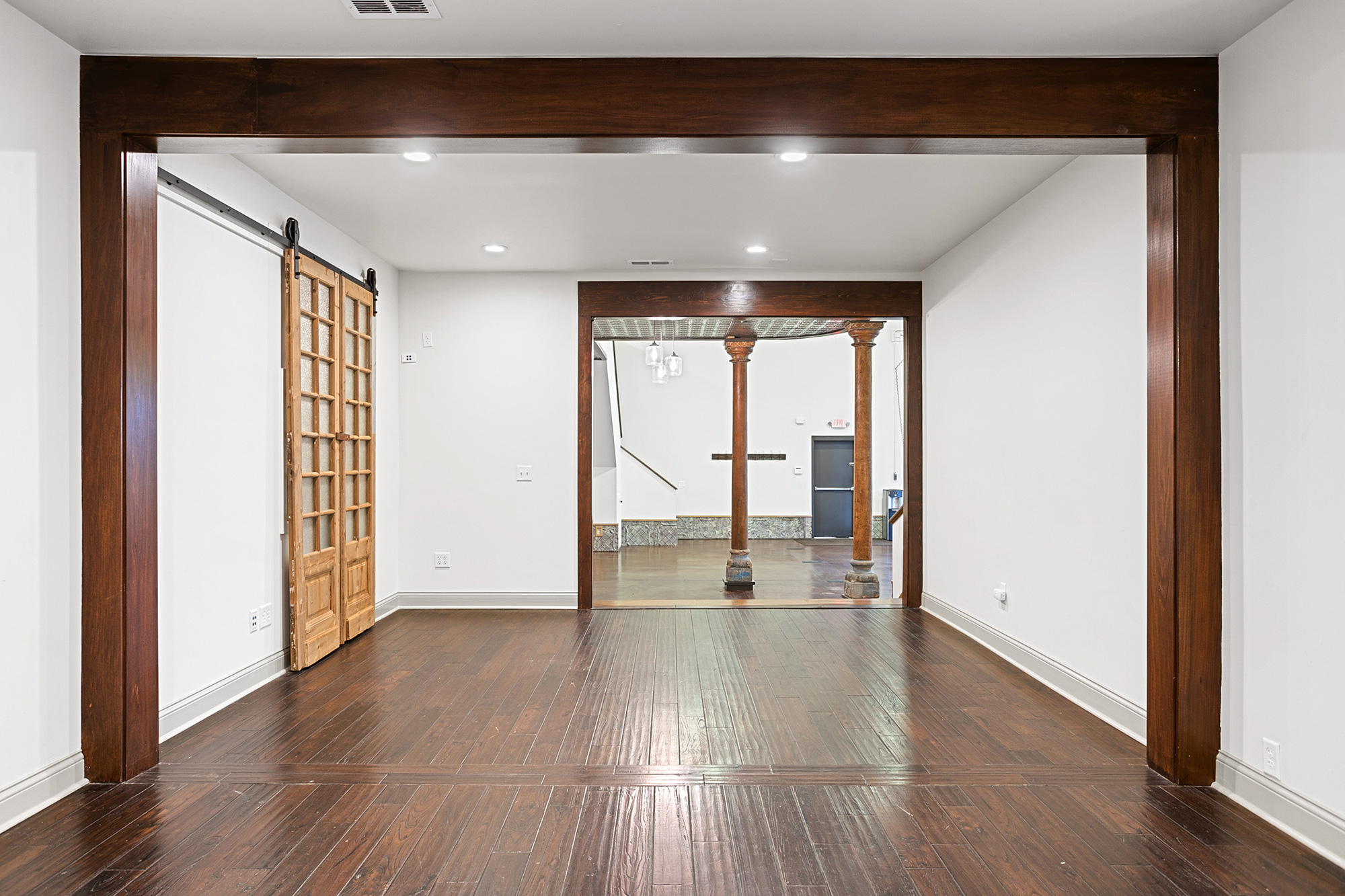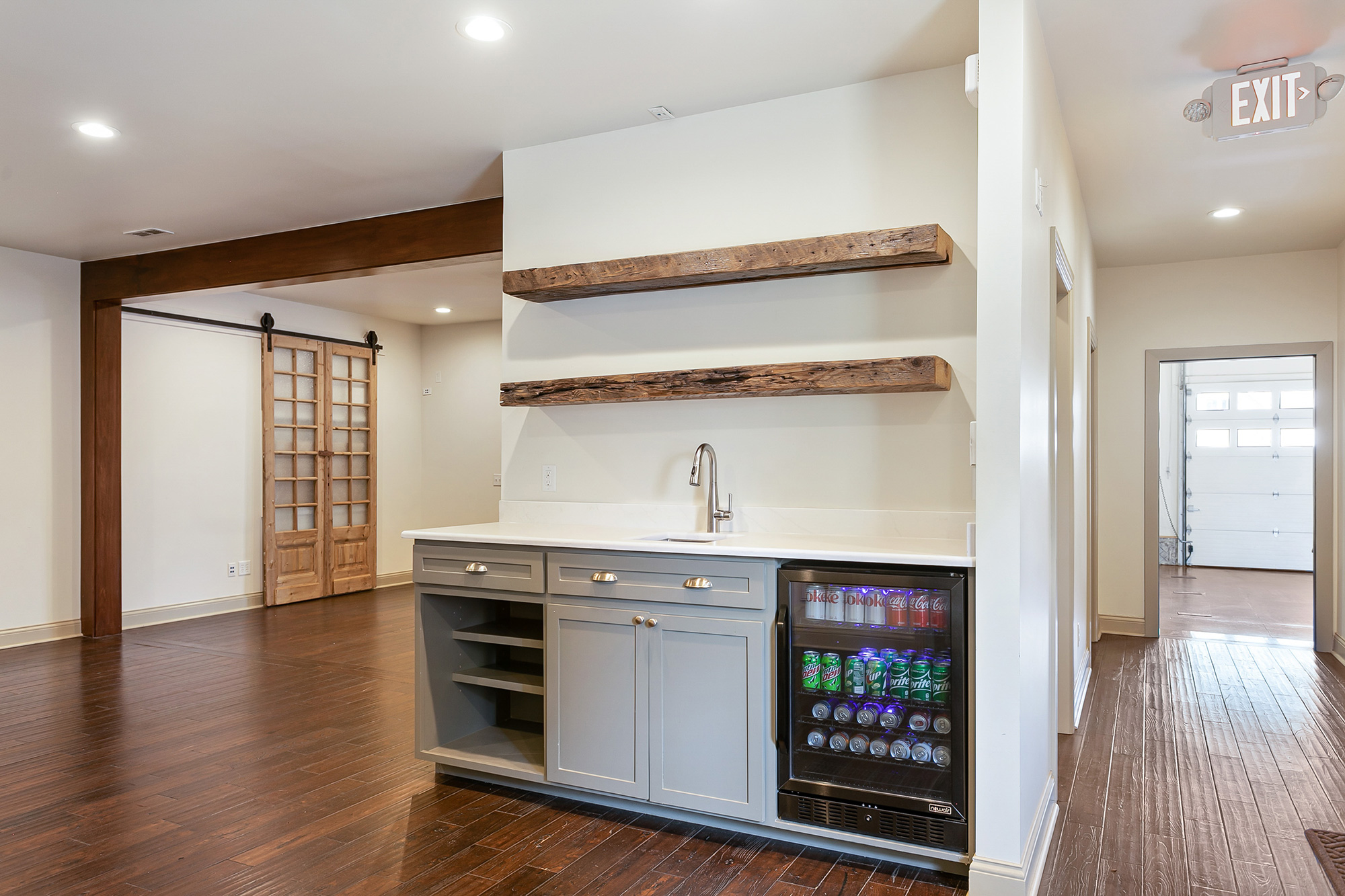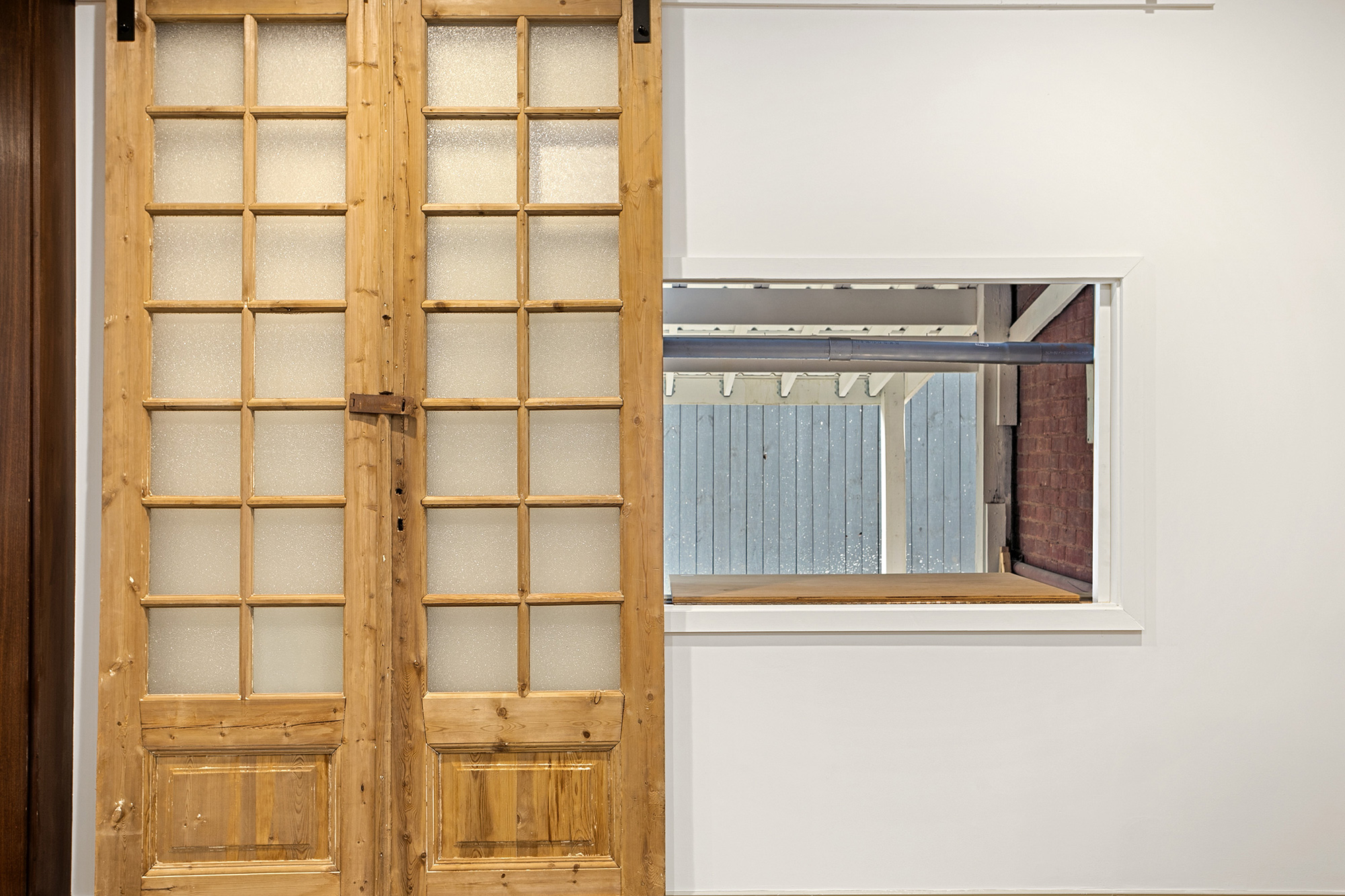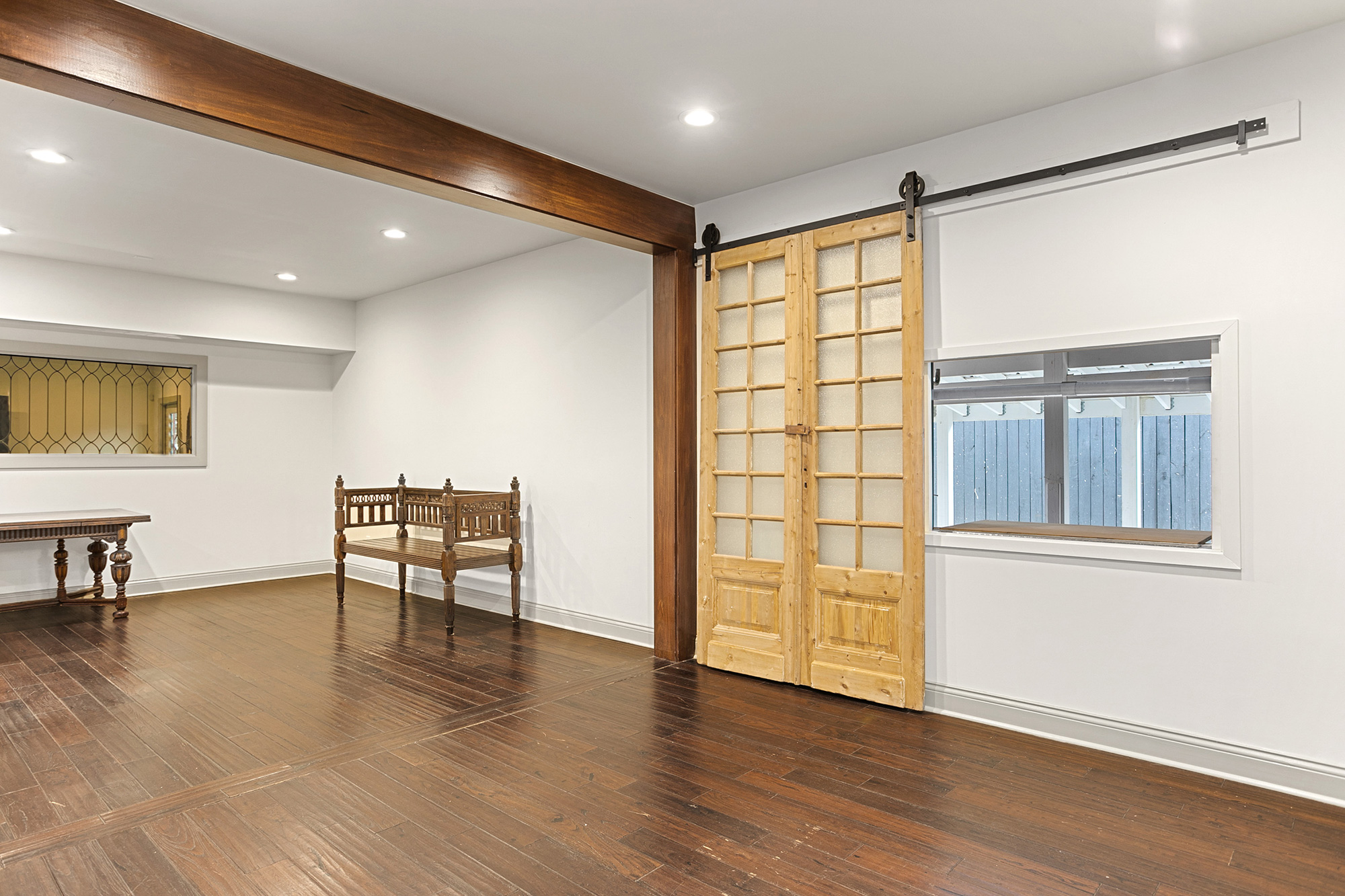 M&M Multi-purpose space is a large area that is flexible enough to meet a variety of needs a cocktail party, reception, networking, small panel, training or meeting area.  The M&M opens into the Studio | Loft area that is adjacent that allows for one large functional space.
With its own brand new coffee | bar use it for a morning mixer or afternoon cocktails combo, The M&M is perfect. It is easily used as an area for a buffet, bar and lounge. Have a meeting in The Studio or The Austin Powers room and lunch in the M&M.  That's a winning combo. Add on the garden for an outdoor space. Use The M&M room as expansion space in conjunction with the Studio | Loft. For that matter, just rent the whole floor. It flows.
M&M seats up to 16-30 people depending on the configuration. It has its own dry erase board that can be repositioned anywhere in the room.  This room is multi-functional, multi-purpose.
Capacity
Tables & Chairs: Up to 24
Panel / Training Only: Up to 30
Networking: Up to 30
Lounge Setup: up to 16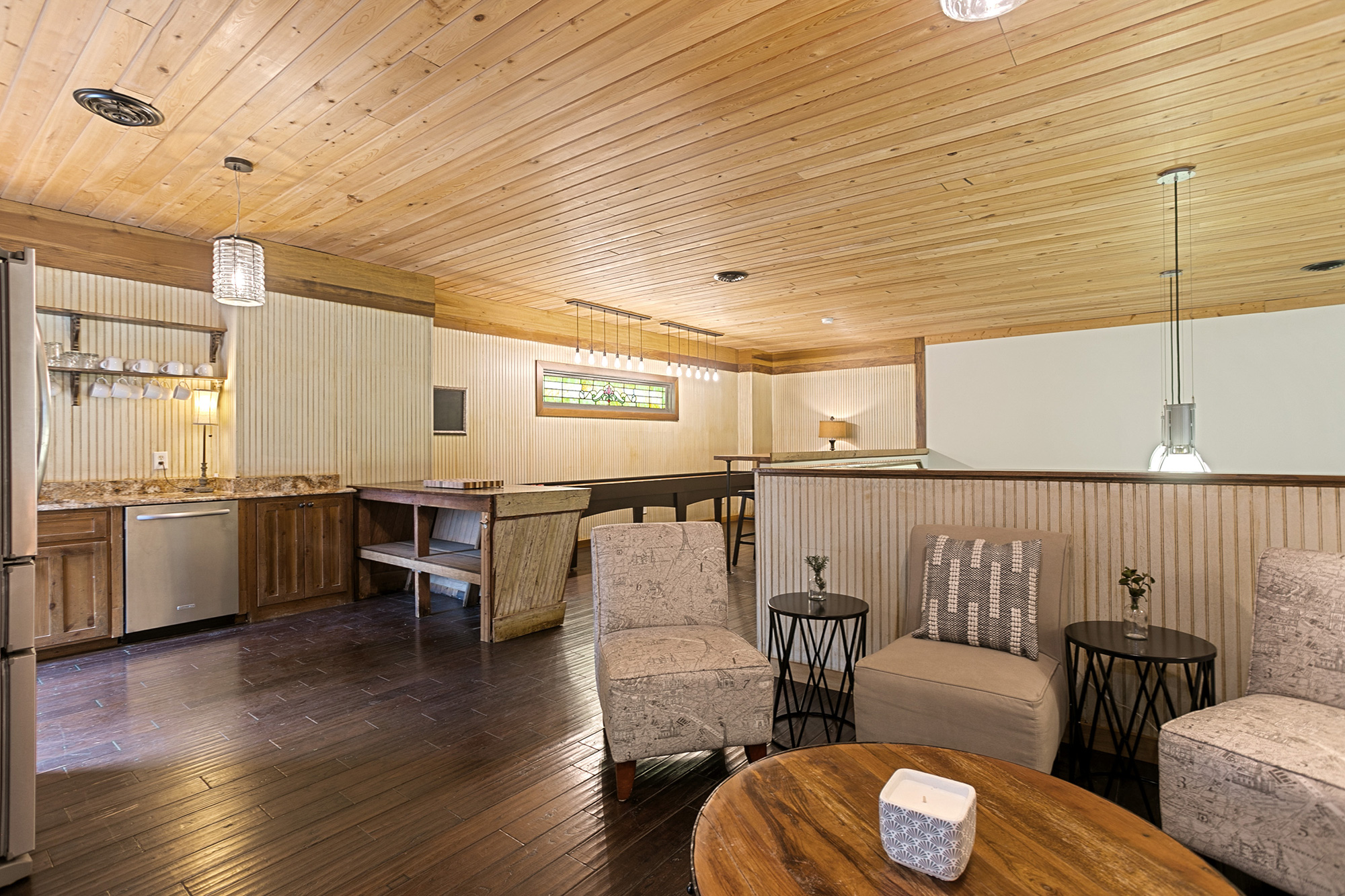 - 2nd Floor -
The Loft
& Deck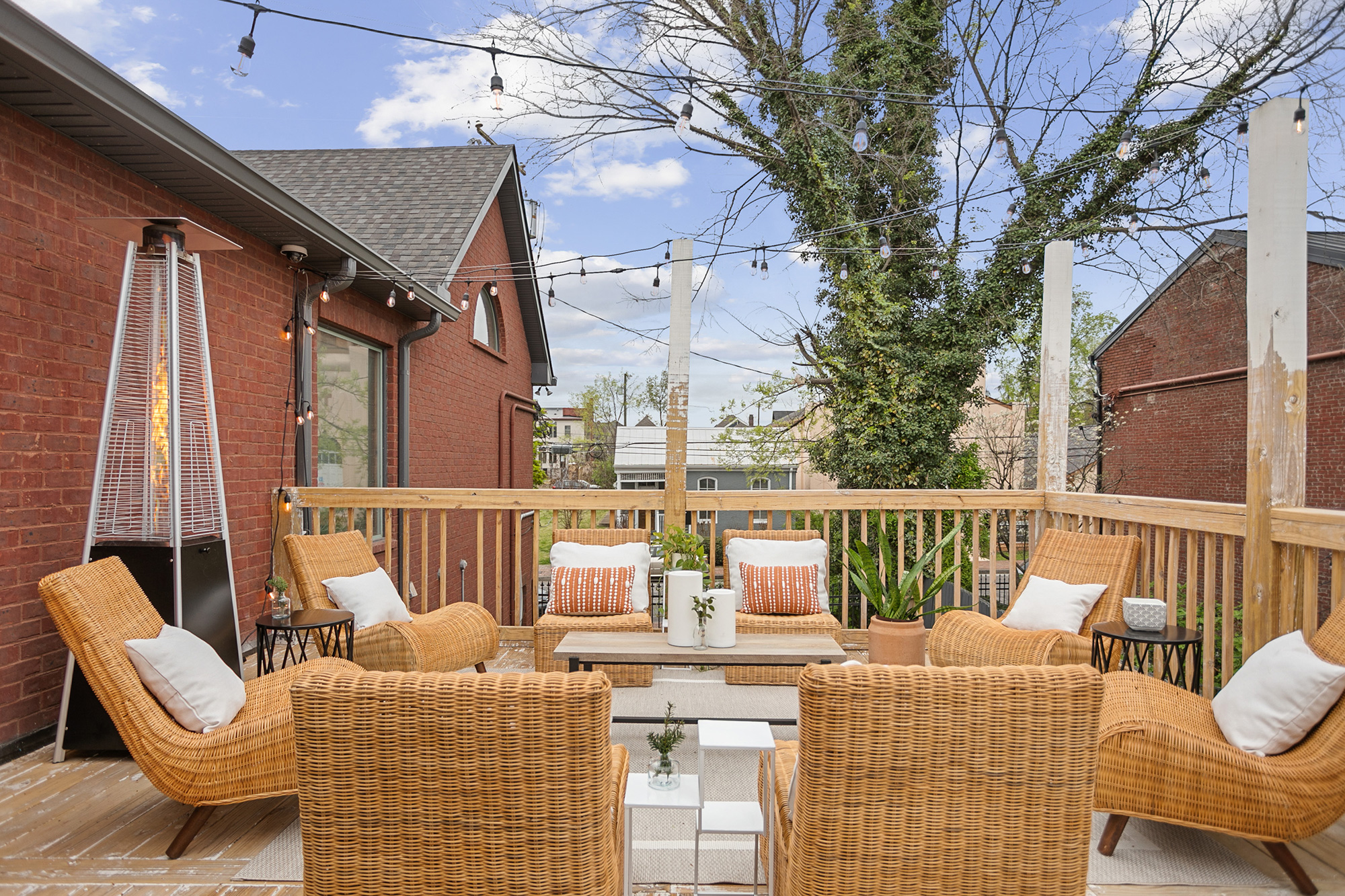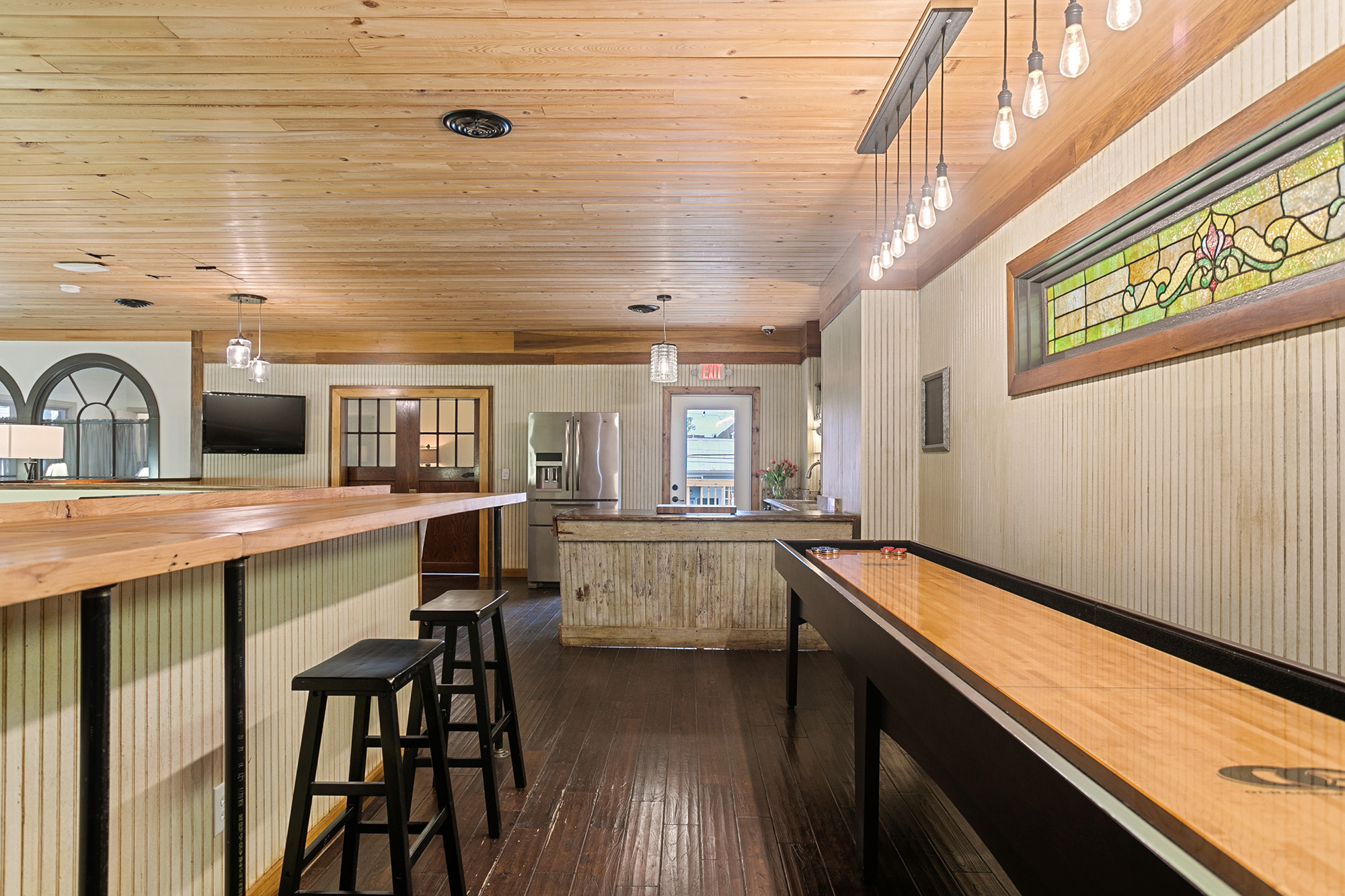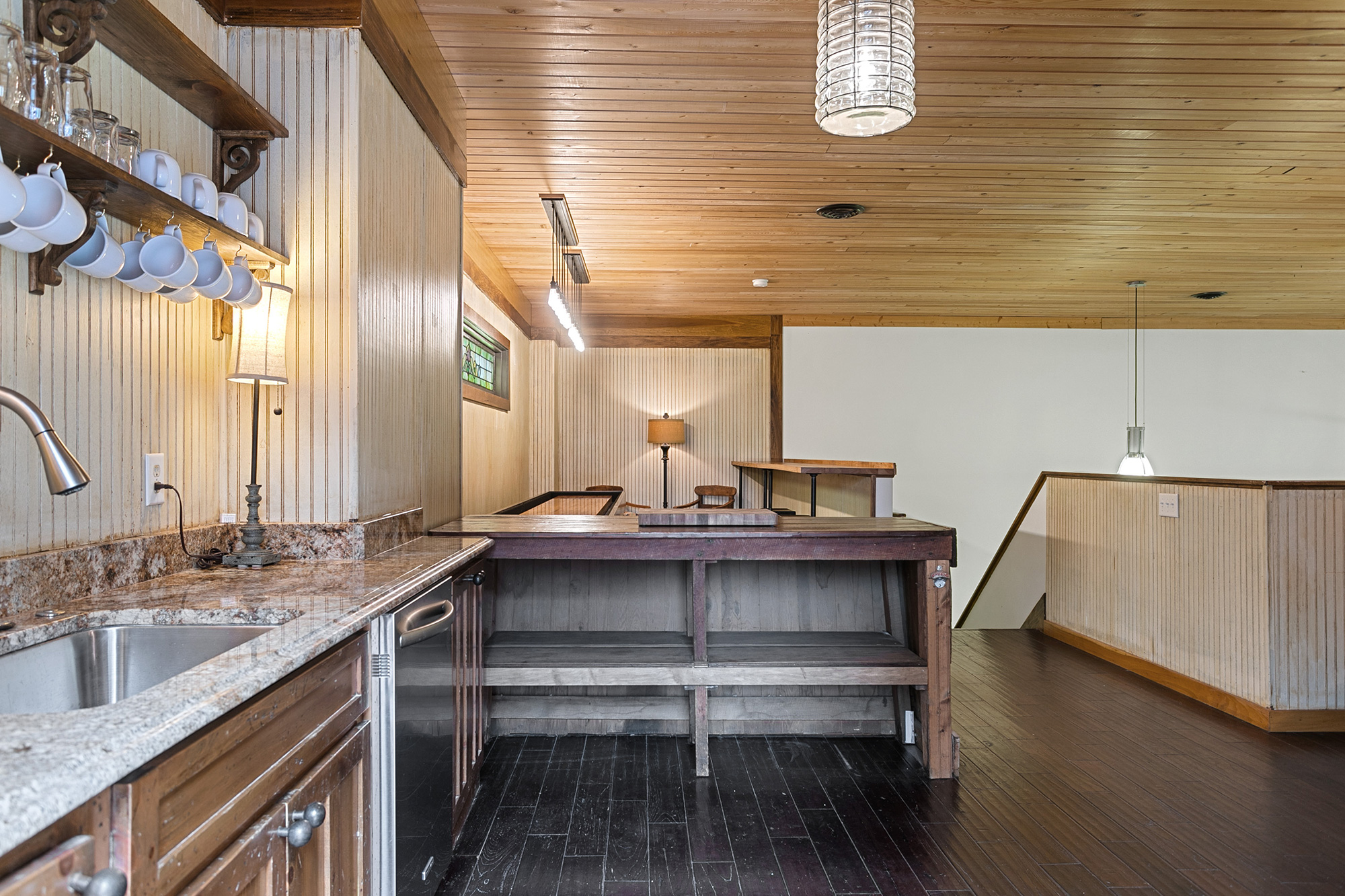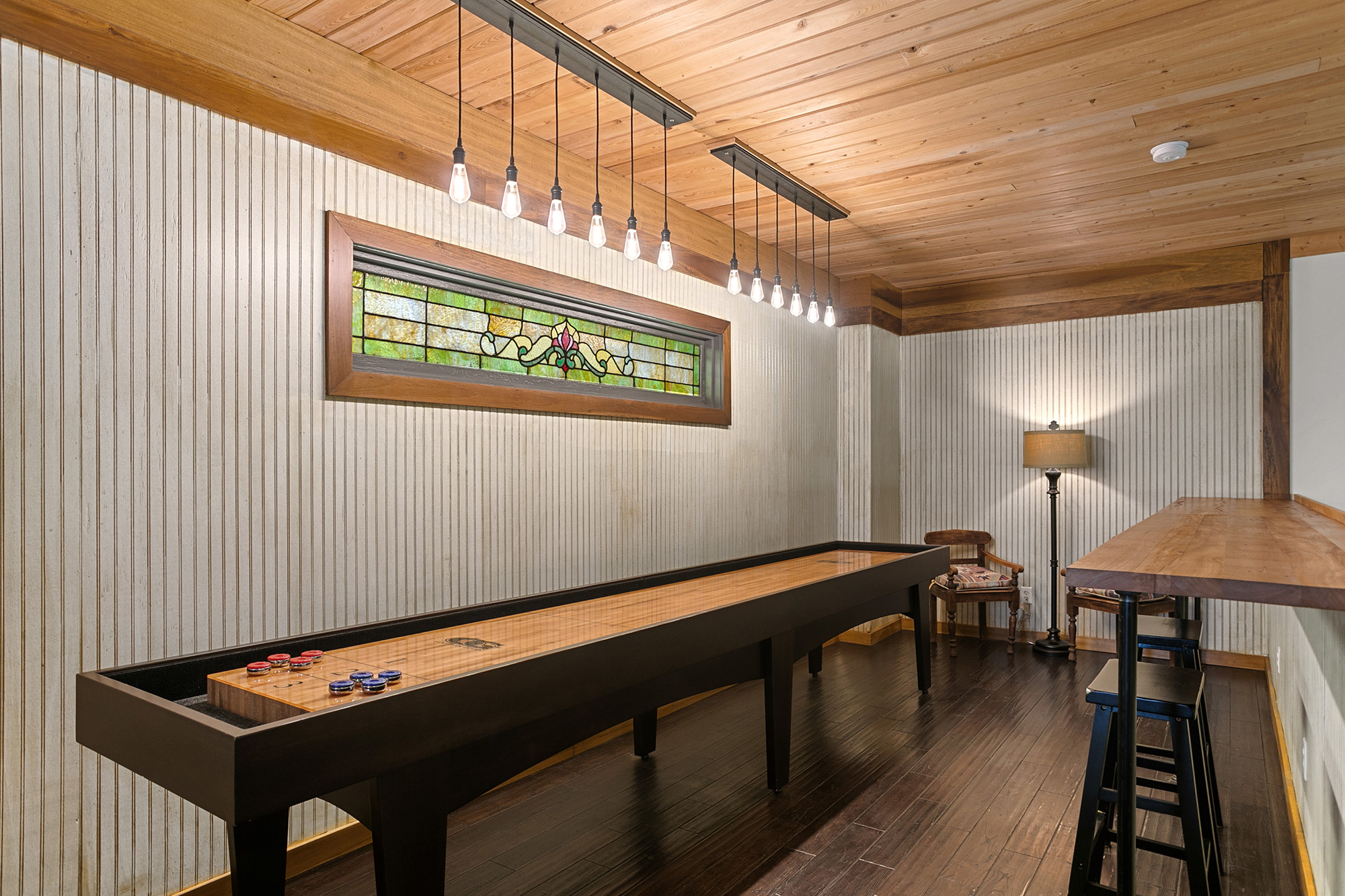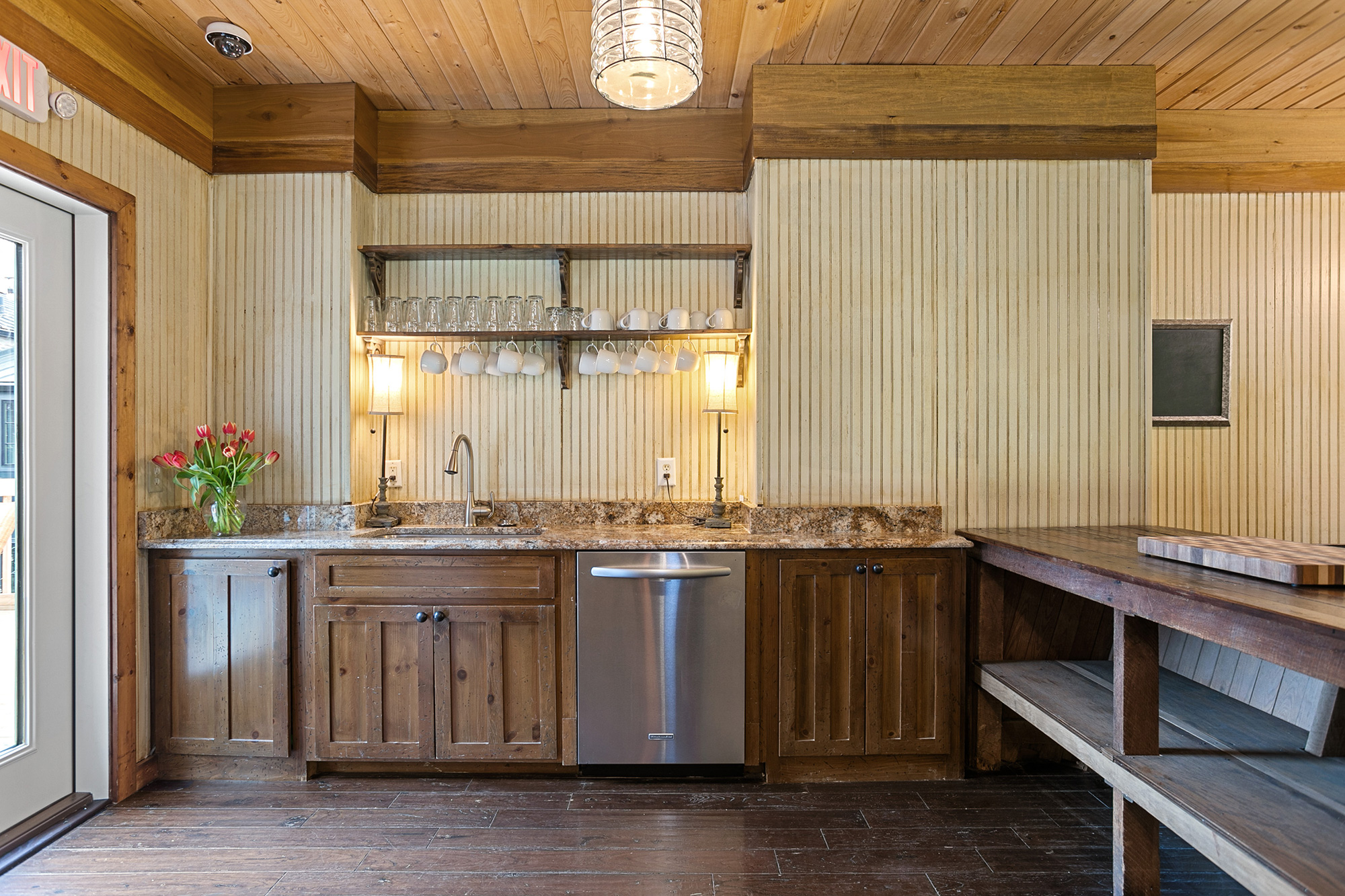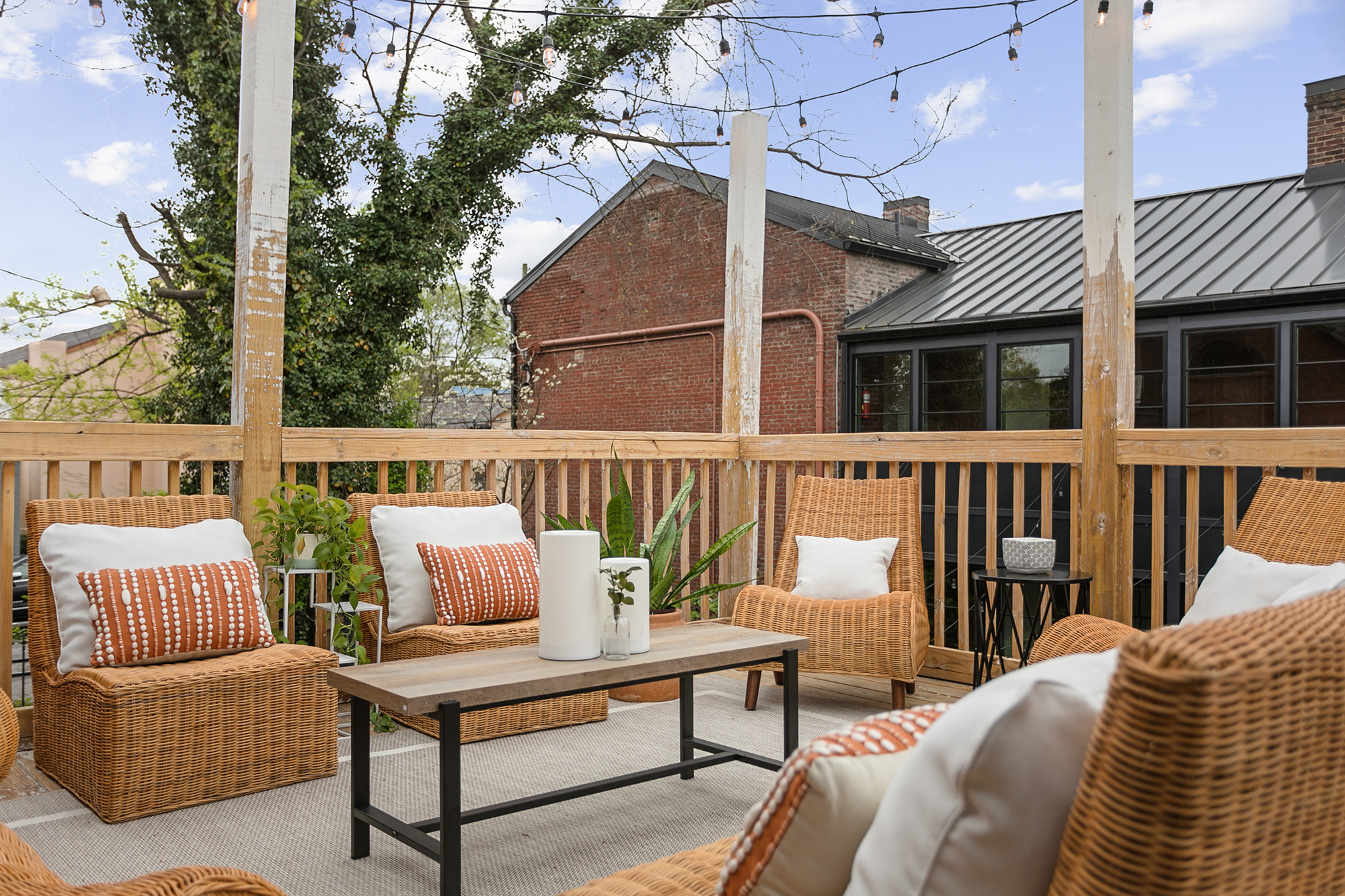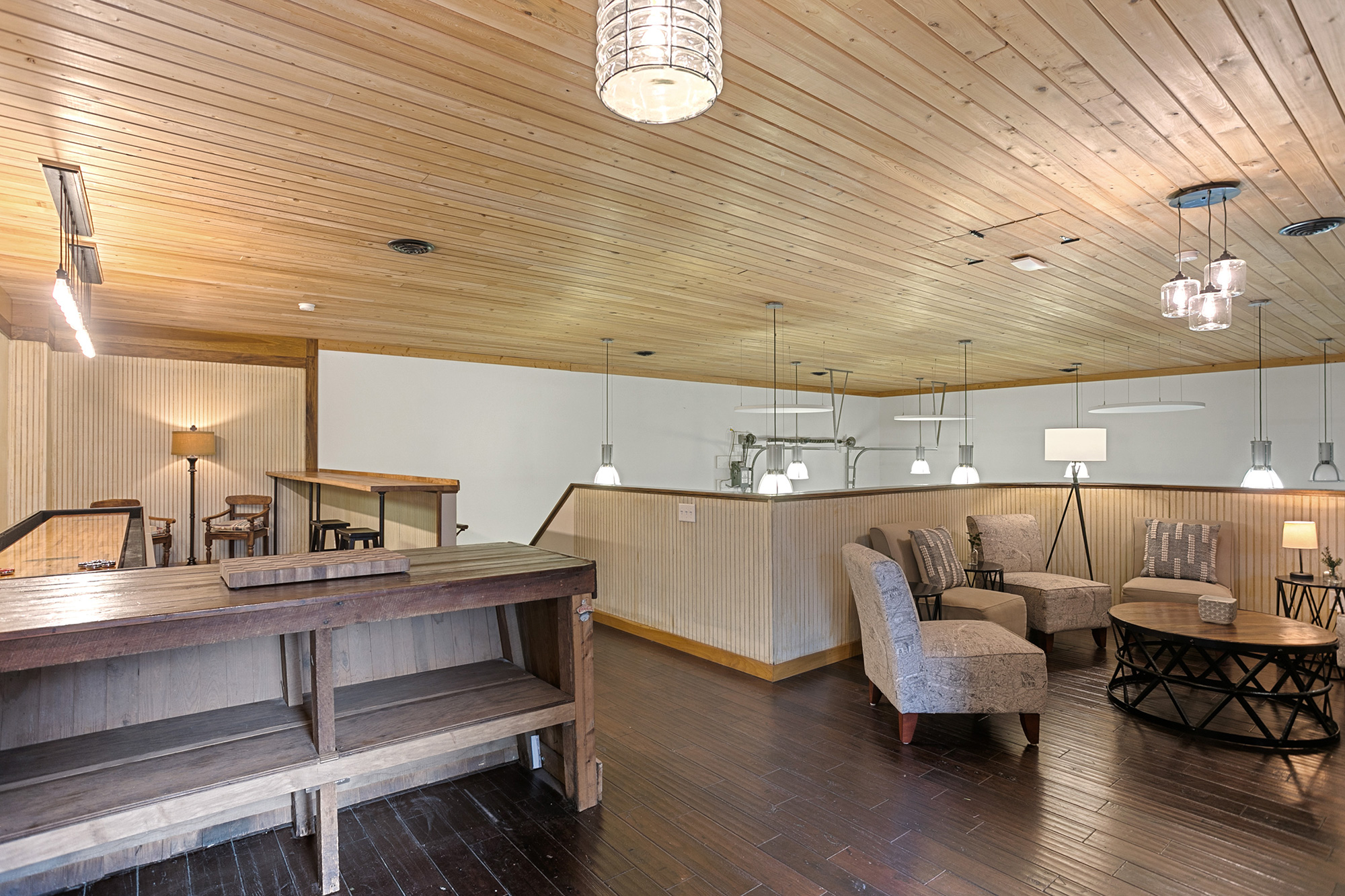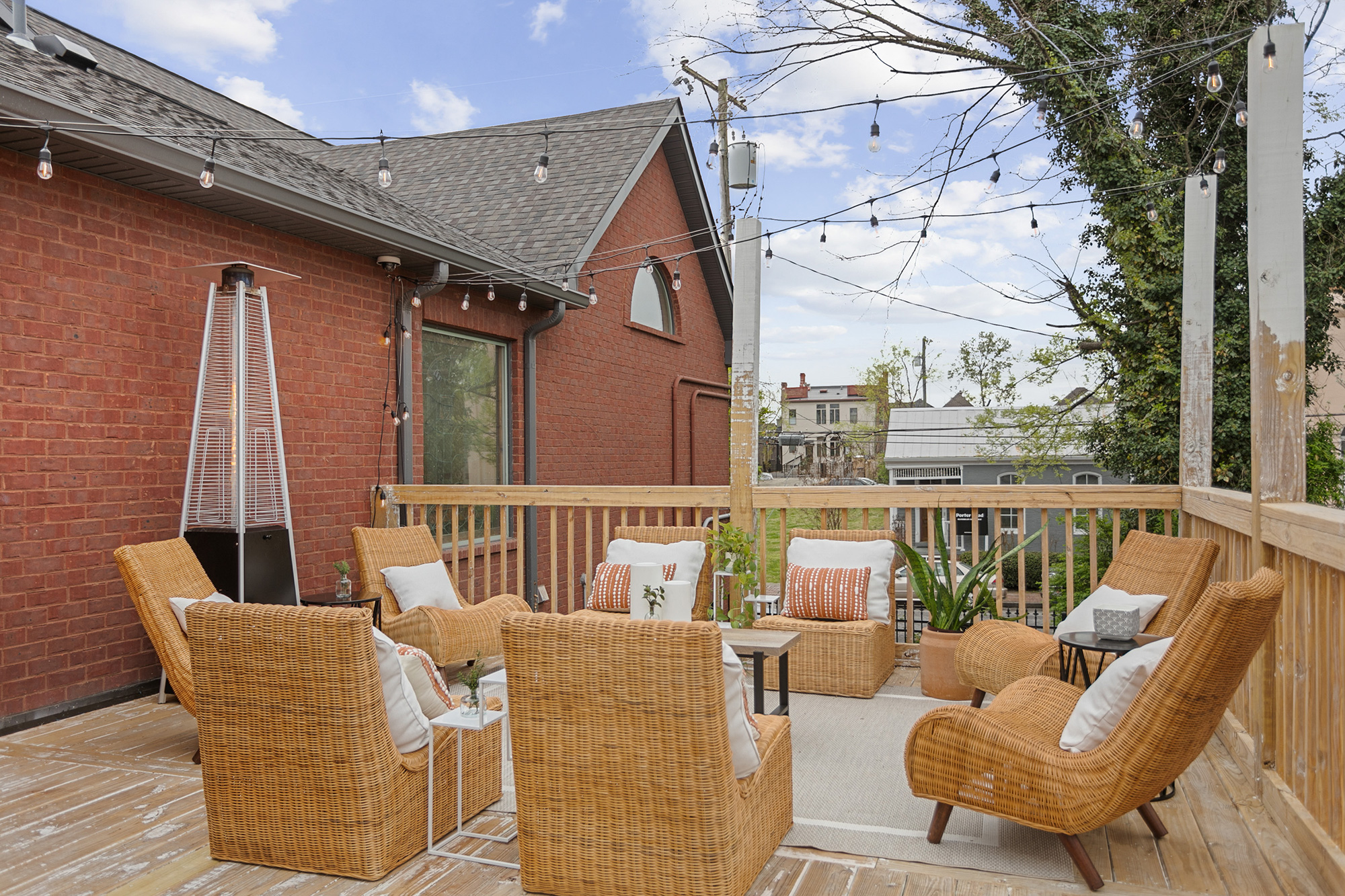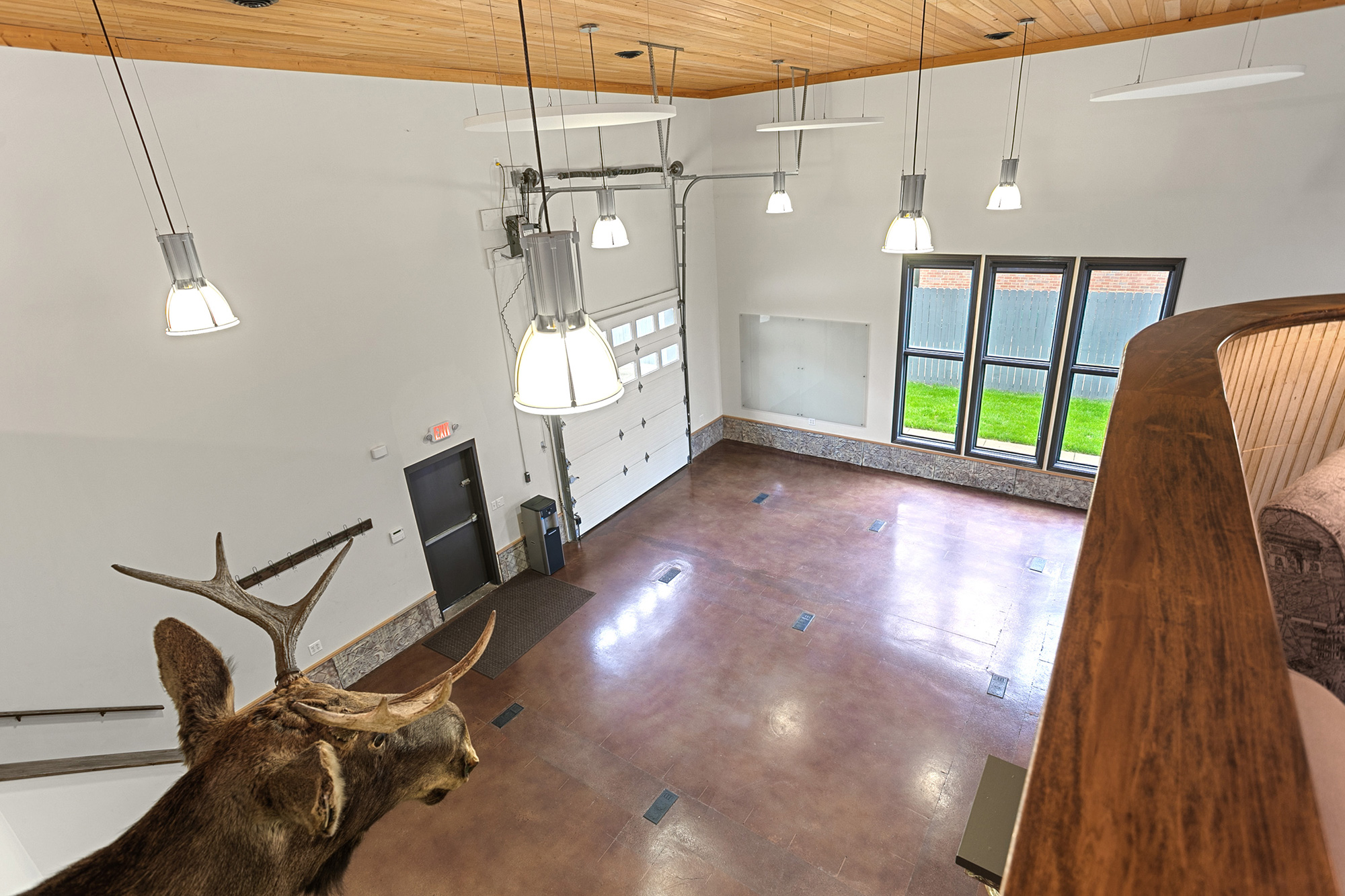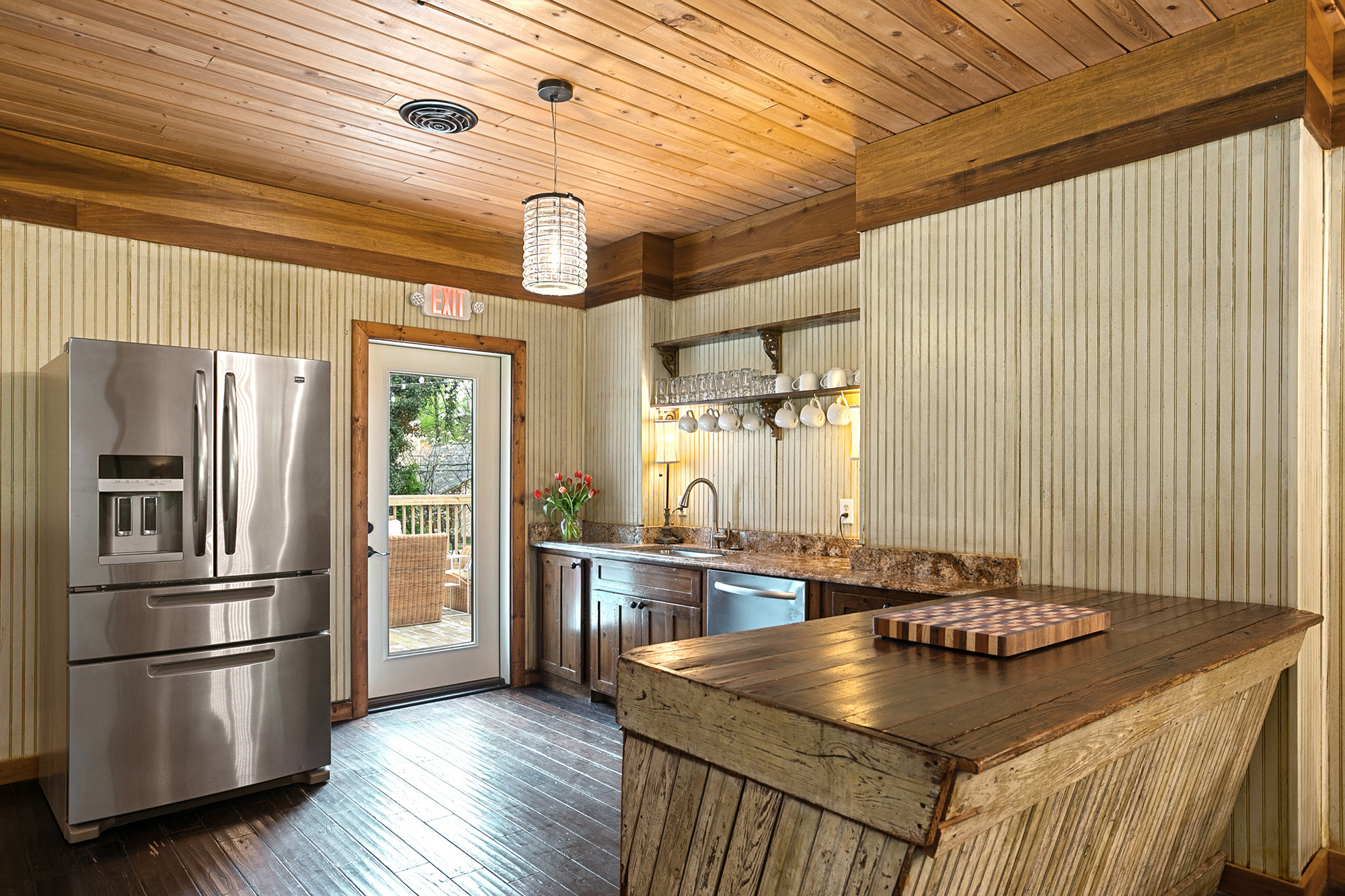 The Loft booked its own is an amazing gathering space for a gathering under 16 people. 
In the morning is fantastic as a coffee bar and in the afternoon or early evening perfect for specialty cocktails. Of course, you can play shuffleboard anytime on the lovely 14 ft table. The loft kitchen is great for a breakfast buffet, appetizers or tapas.
Use the loft for a different perspective or purpose when used in conjunction with the Studio below. It's a birds eye view unlike any other venue in town.
The Loft Deck
The Loft is an outdoor space with an expanded deck (18′ x 18′). It's great for additional capacity for an outdoor meeting, event, working, breakouts or just to escape.
Loft Capacity:
Up to 16 people seated and standing
Included is a 18′ x 18′ that allows an additional 14 more guests and makes this indoor/outdoor.
The Loft Deck:
Up to 12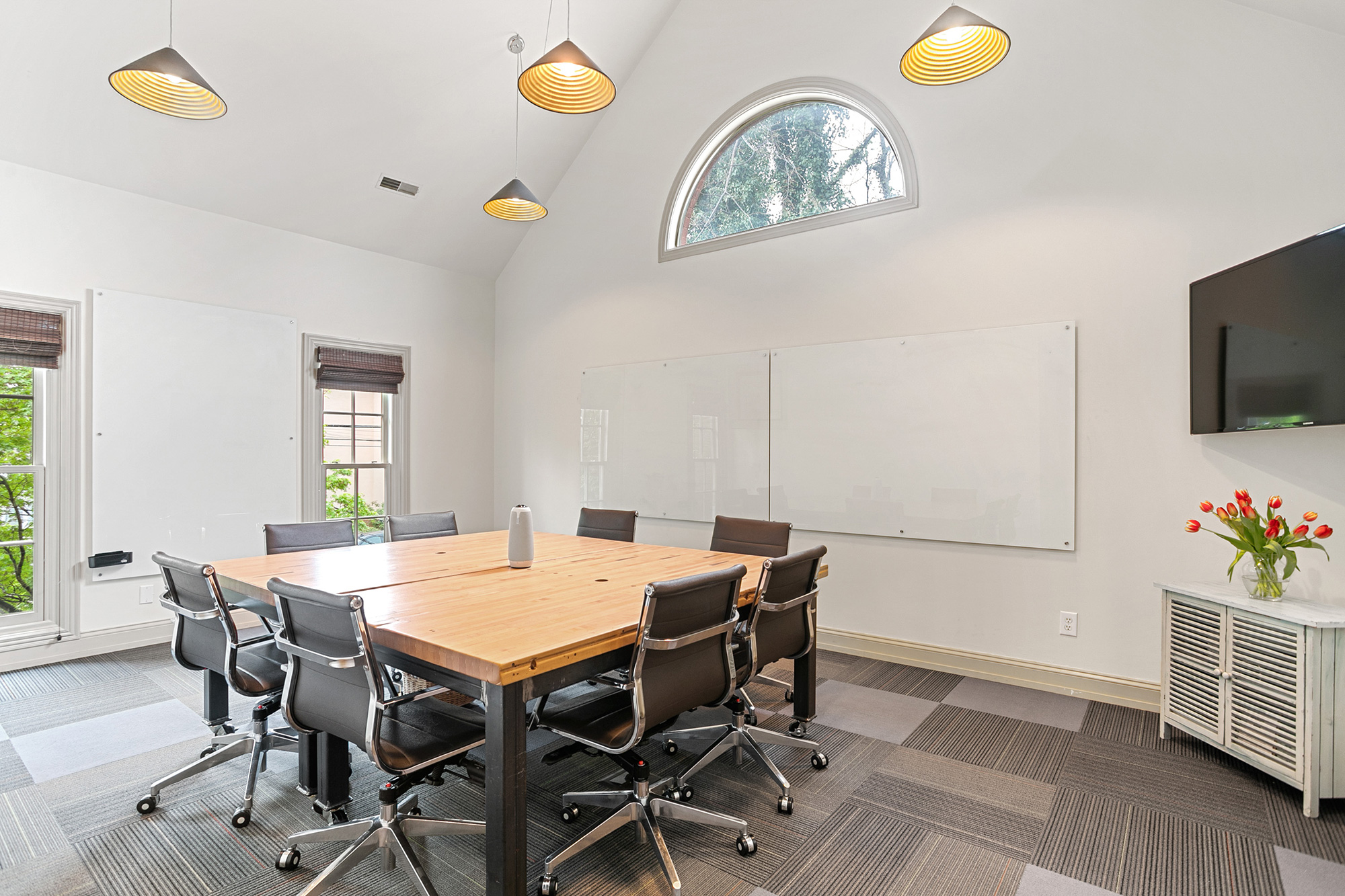 - 2nd Floor -
The
Bowling Alley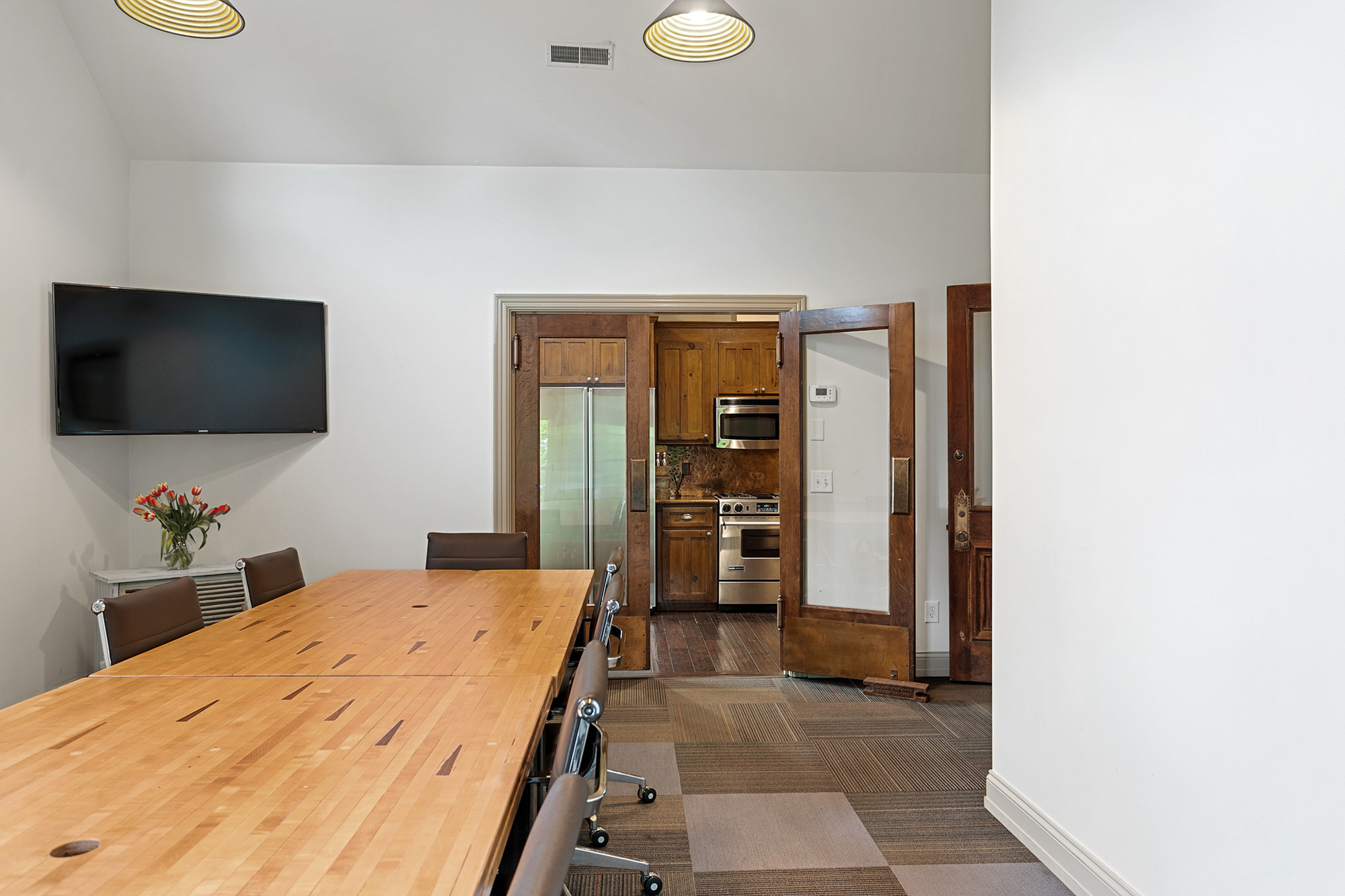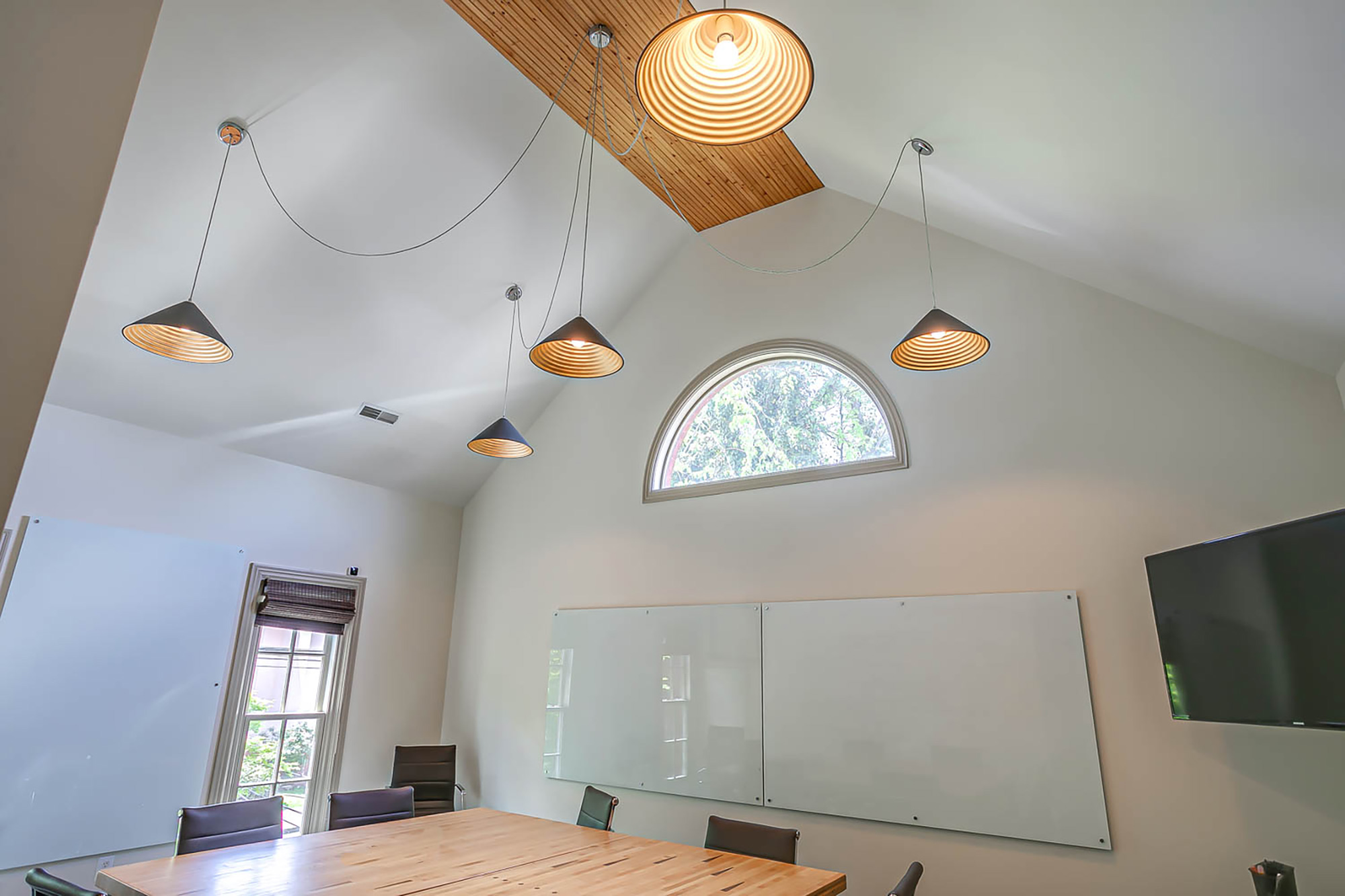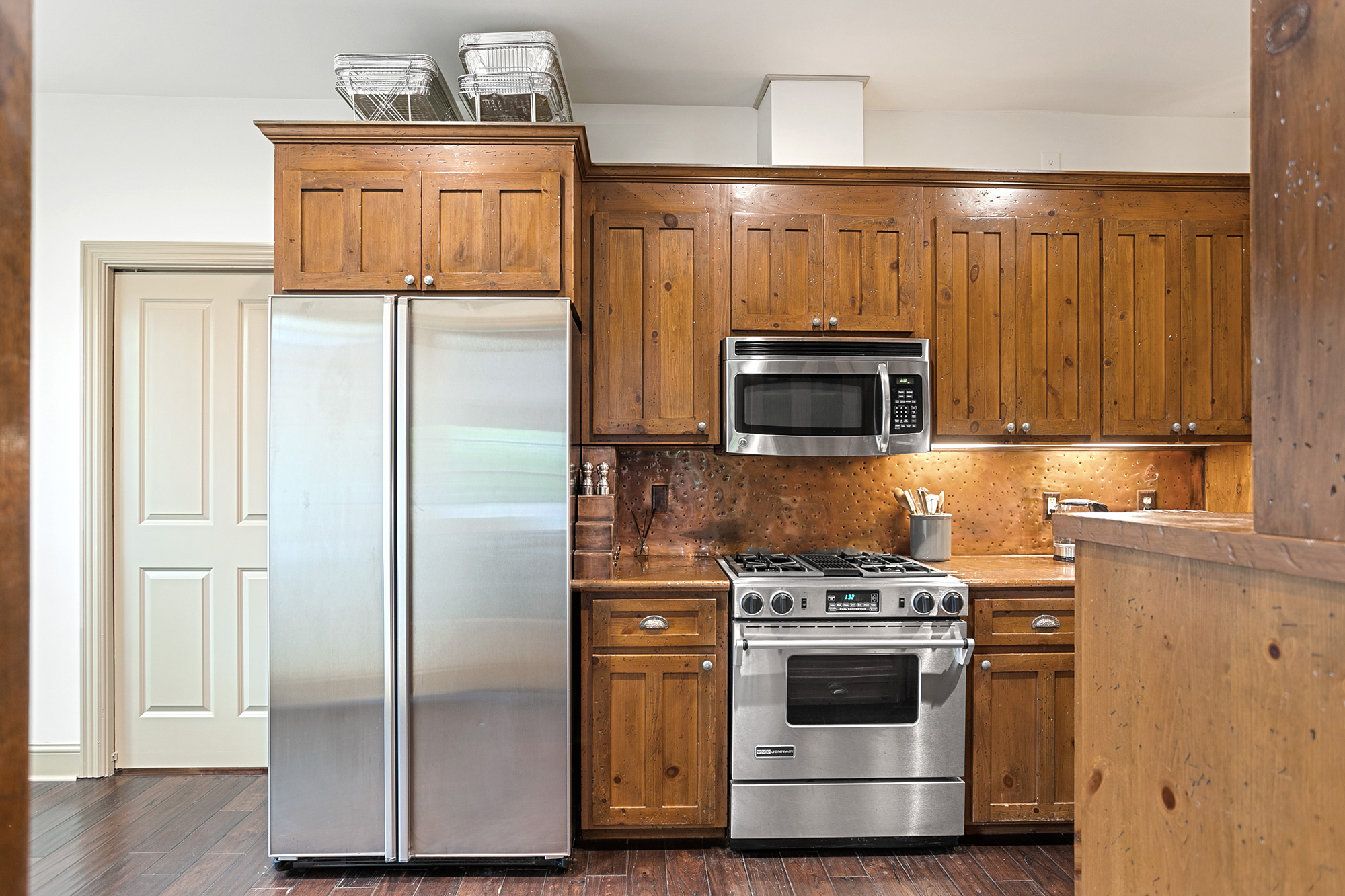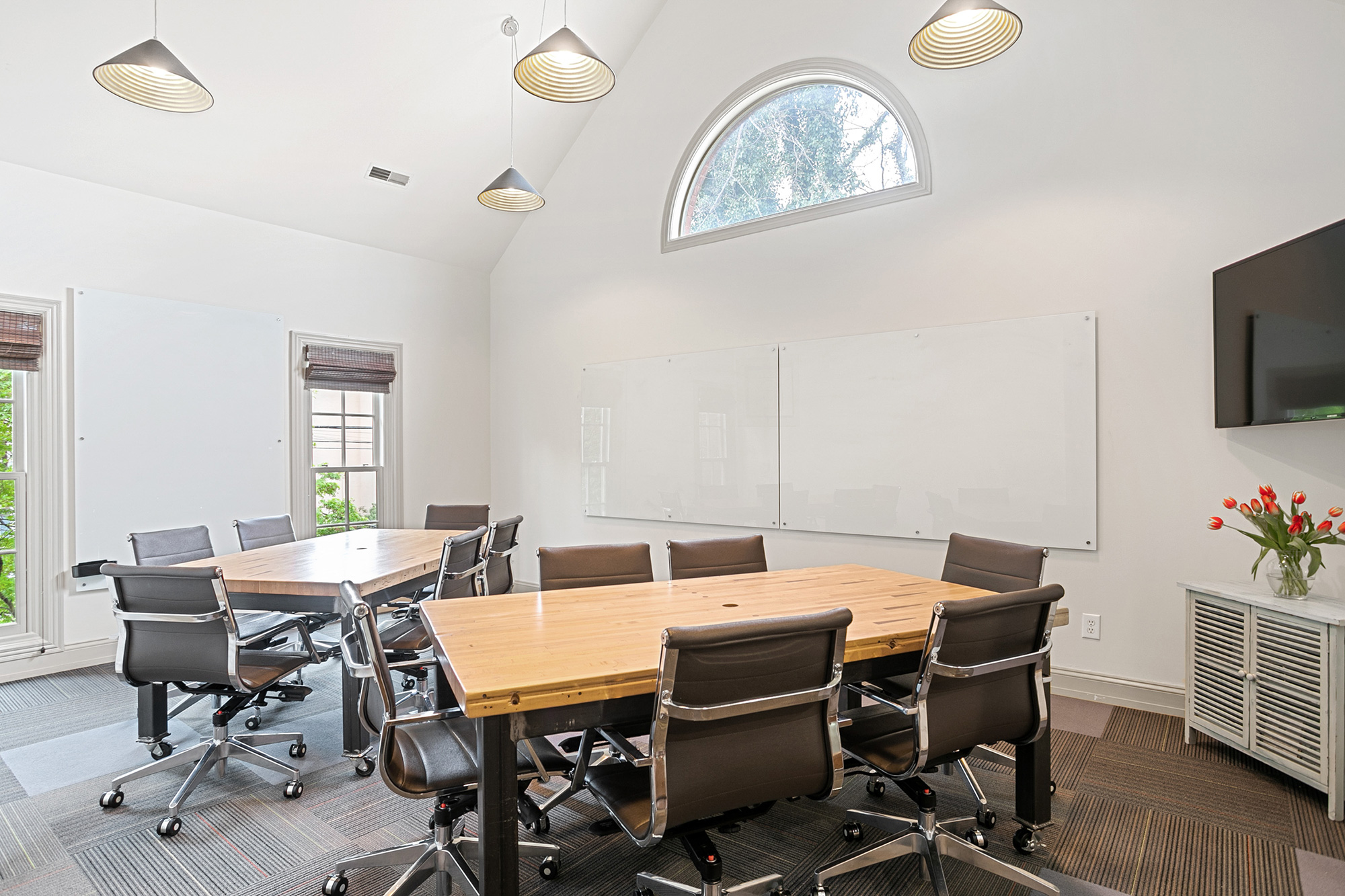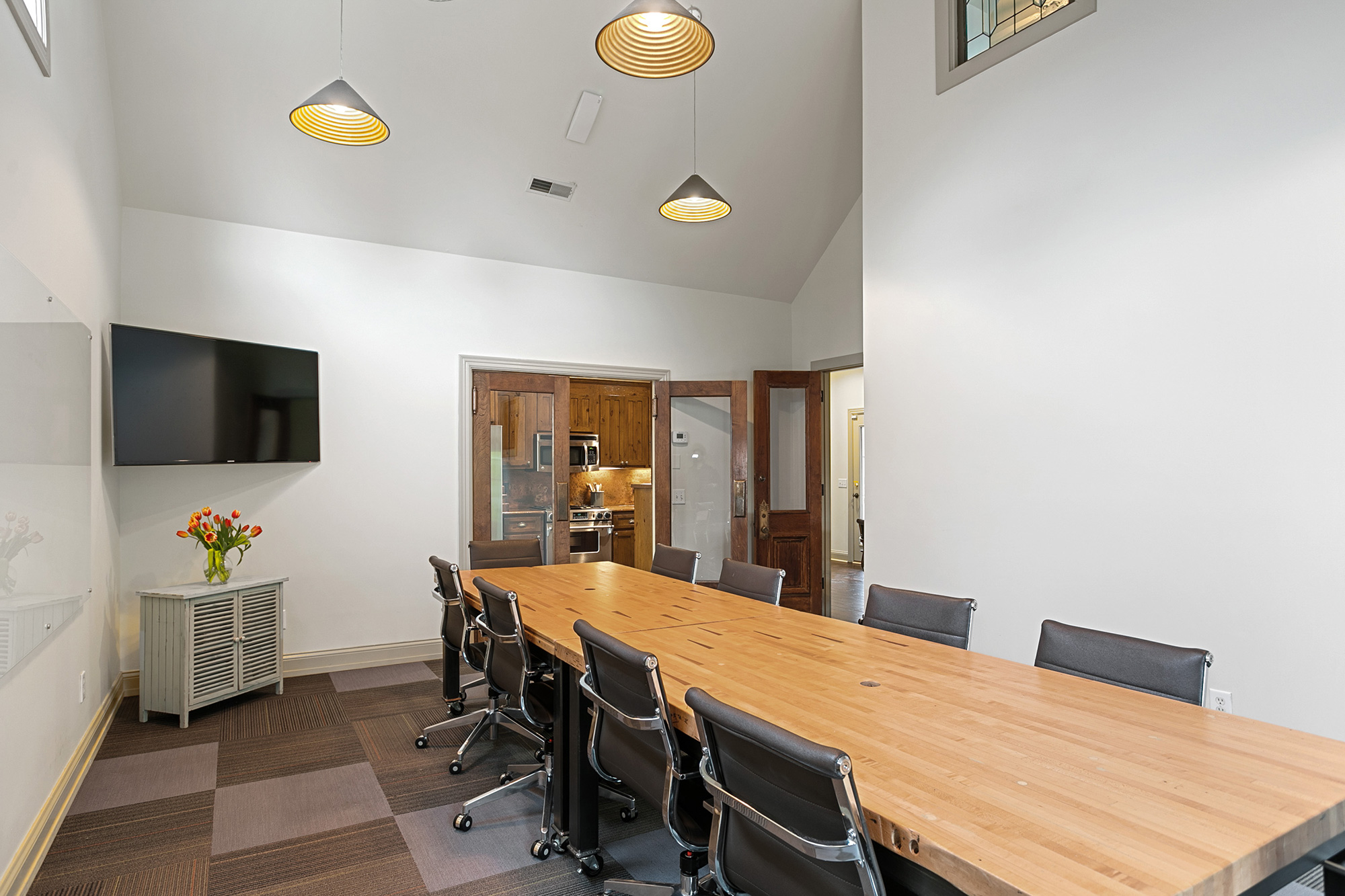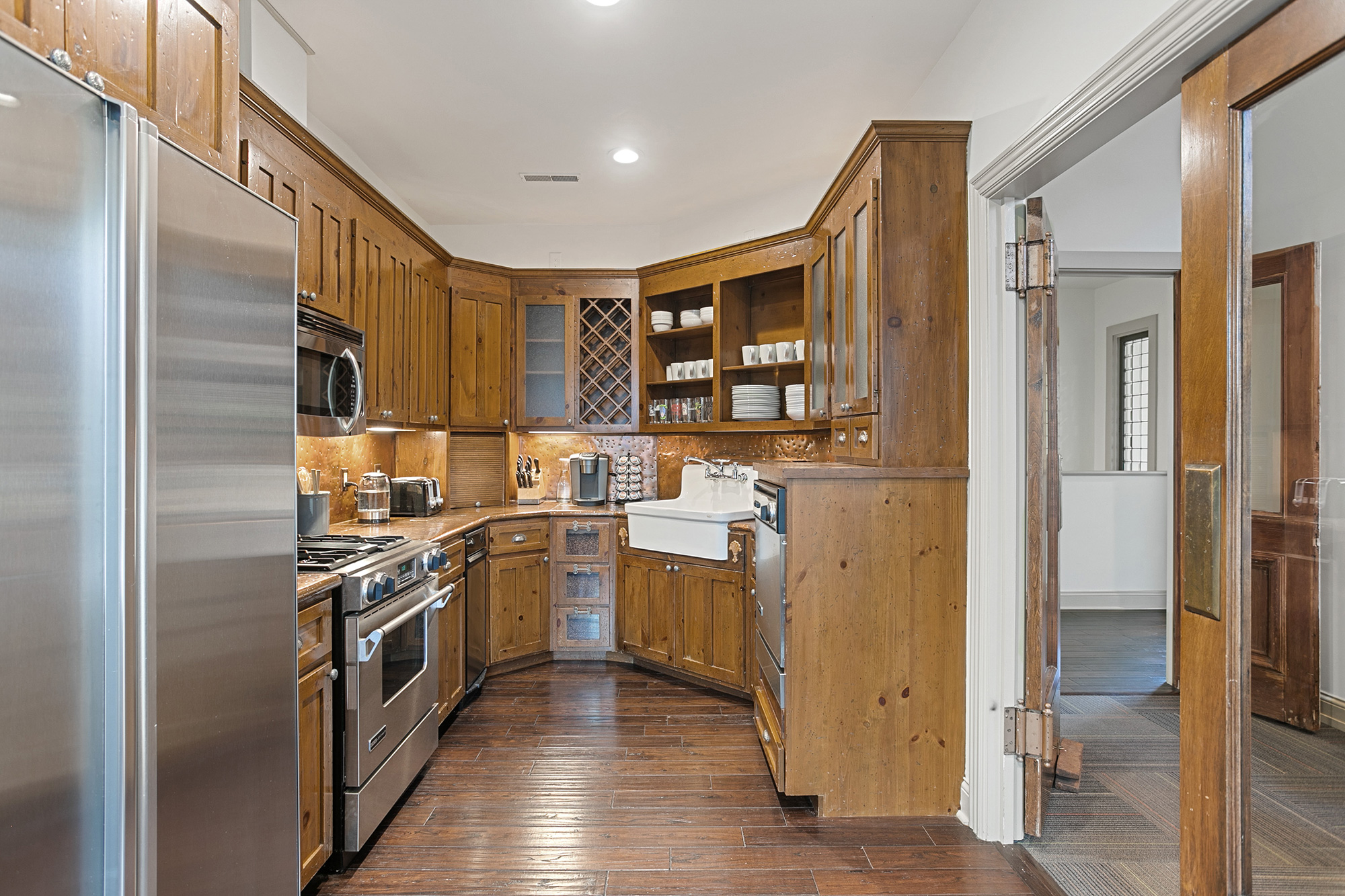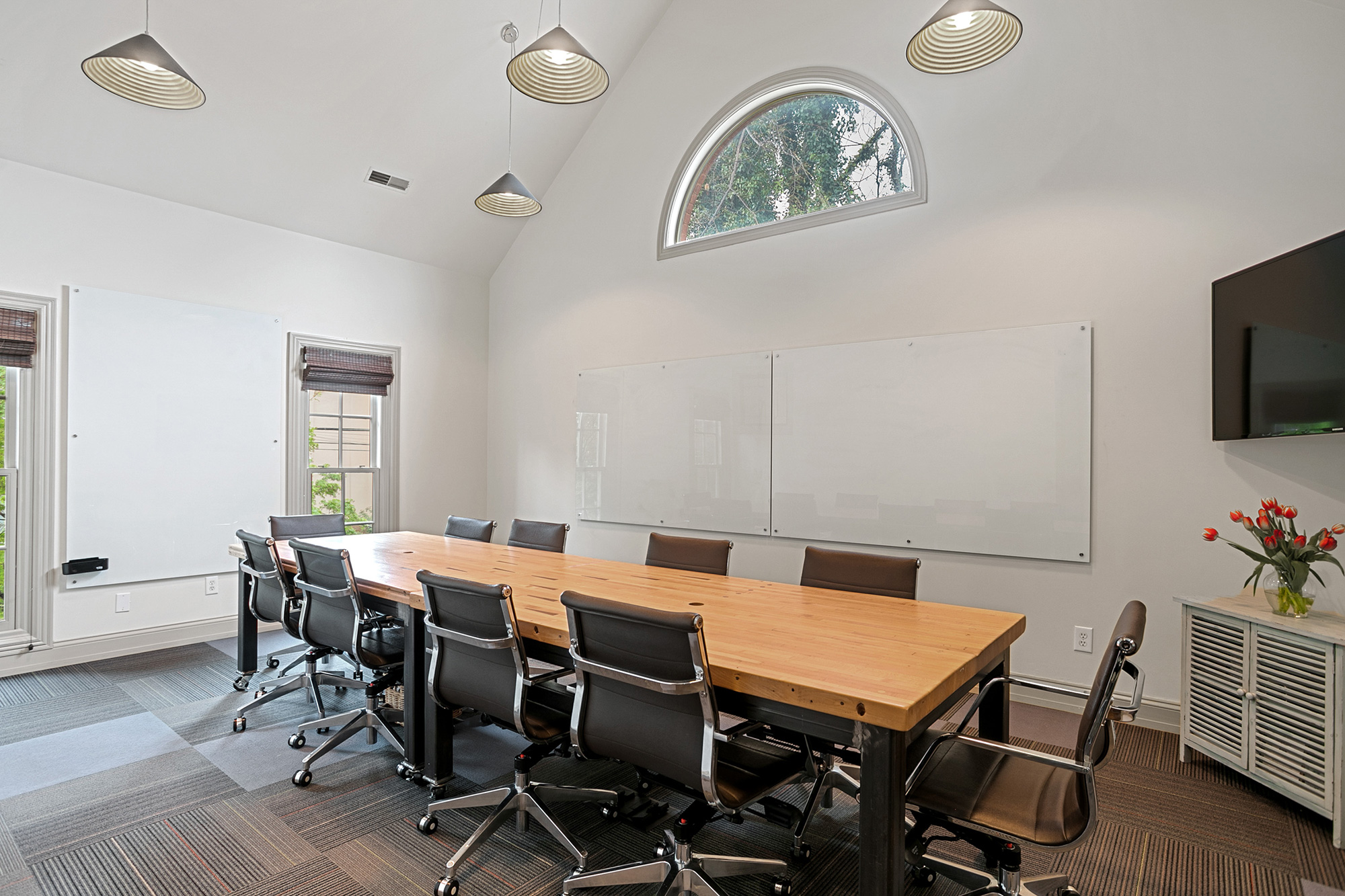 Named for its tables and pendant lighting, the Bowling Alley is perfect for up to 12 guests.
 The tables are easily moved into one long table or two separate tables for 12 seated around the tables. This room features 3 dry erase boards, wireless display and its adjacent to the full kitchen which is included in your reservation.  It's perfect for board meetings, brainstorming, facilitations and retreats. Need break out rooms? Add the HuddleUp or The Crow's Nest. 
Capacity
Pictured as seating for 8 but seats up to 12.
Right next to the Bowling Alley lies the HuddleUp – a super convenient break out room. 
Well, really its more of a nook because it's small an intimate.  That said, it's a great spot for a meeting of up to 6. Alternatively, its an awesome spot for a team of 2-4 to work for the day. It is located on the 2nd floor has access to the full kitchen or loft so breakfast, lunch, coffee & snacks are only a few steps away.
Capacity:
Up to 6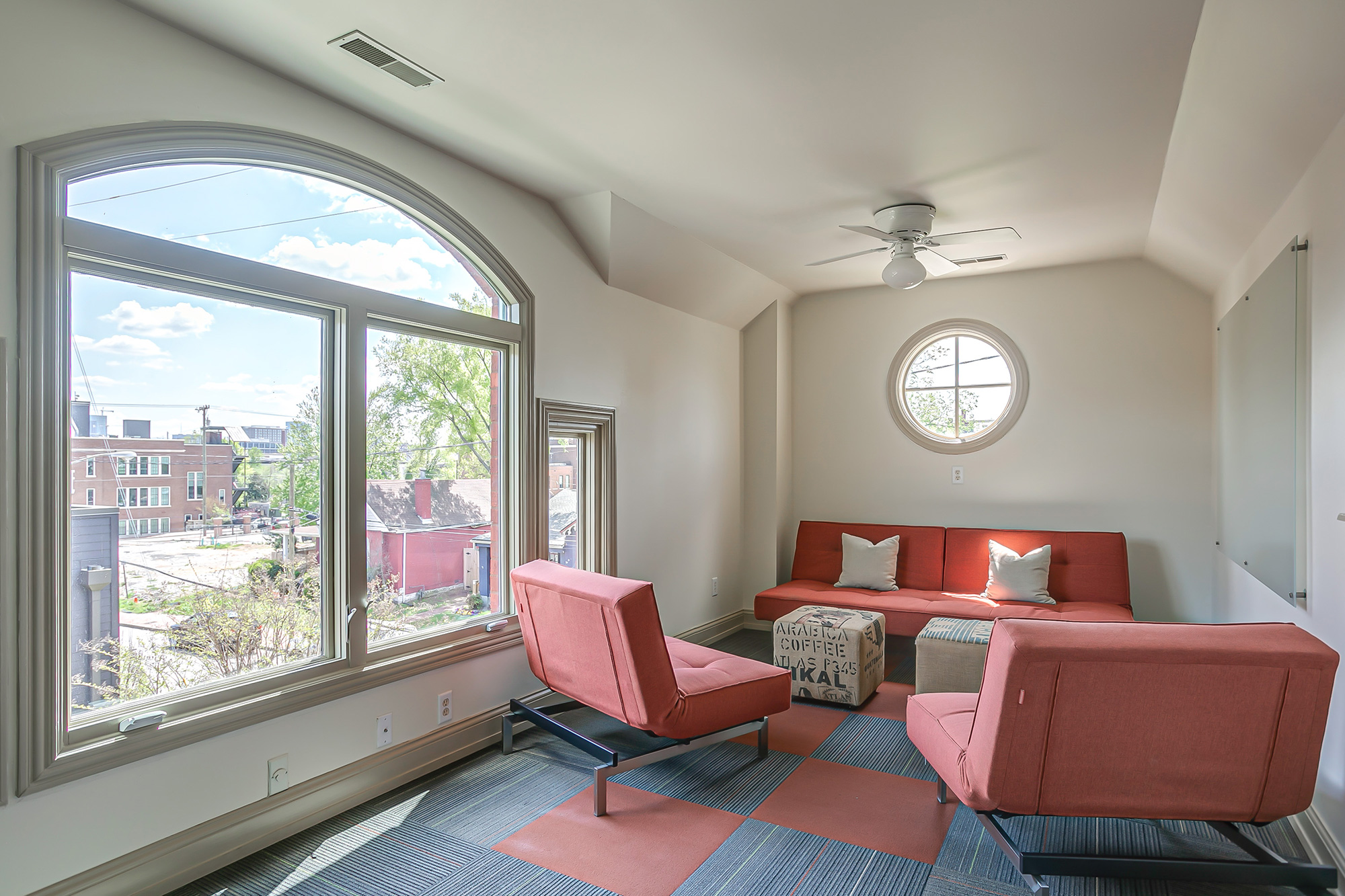 - 3rd Floor -
The
Crows Nest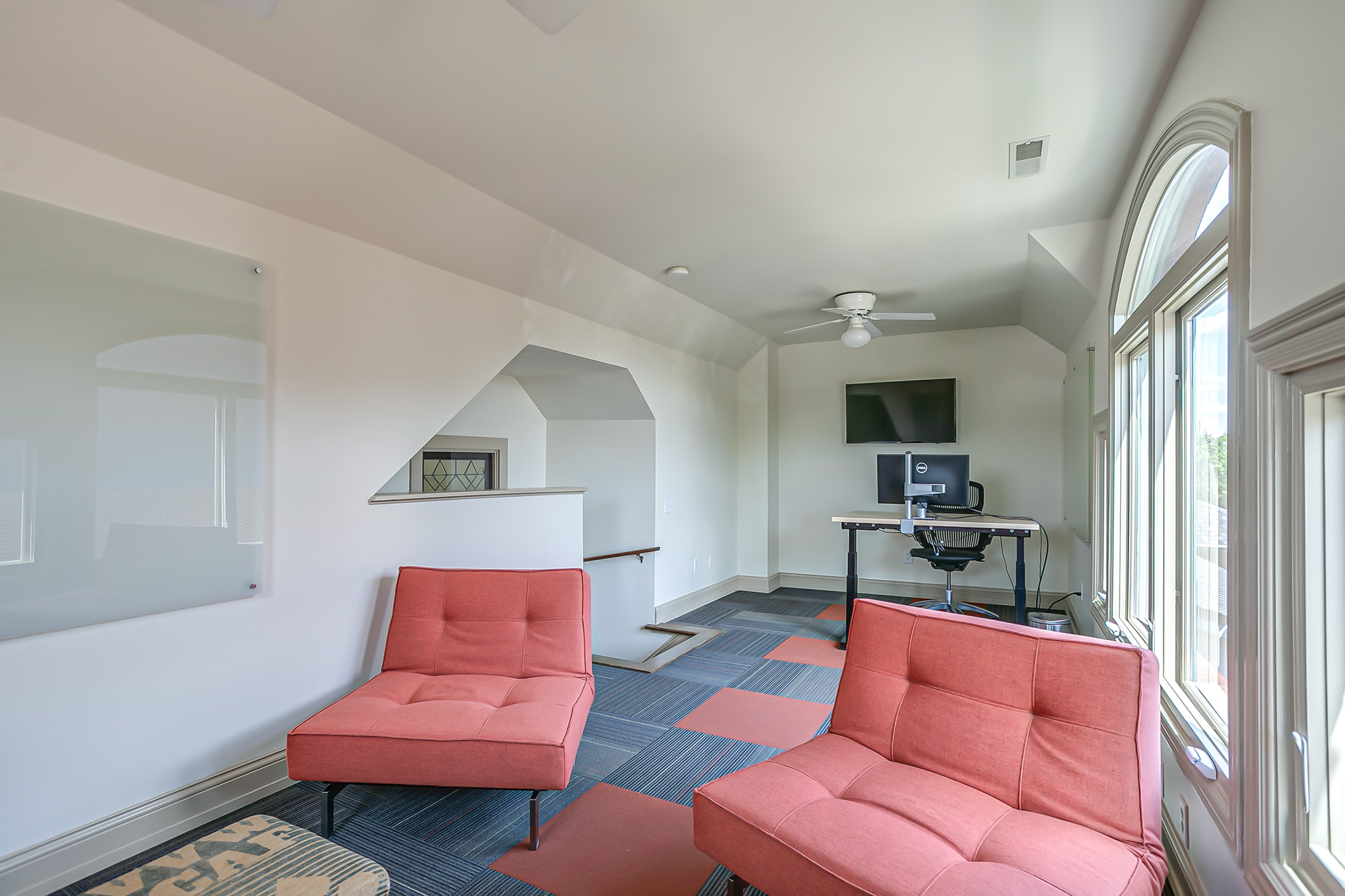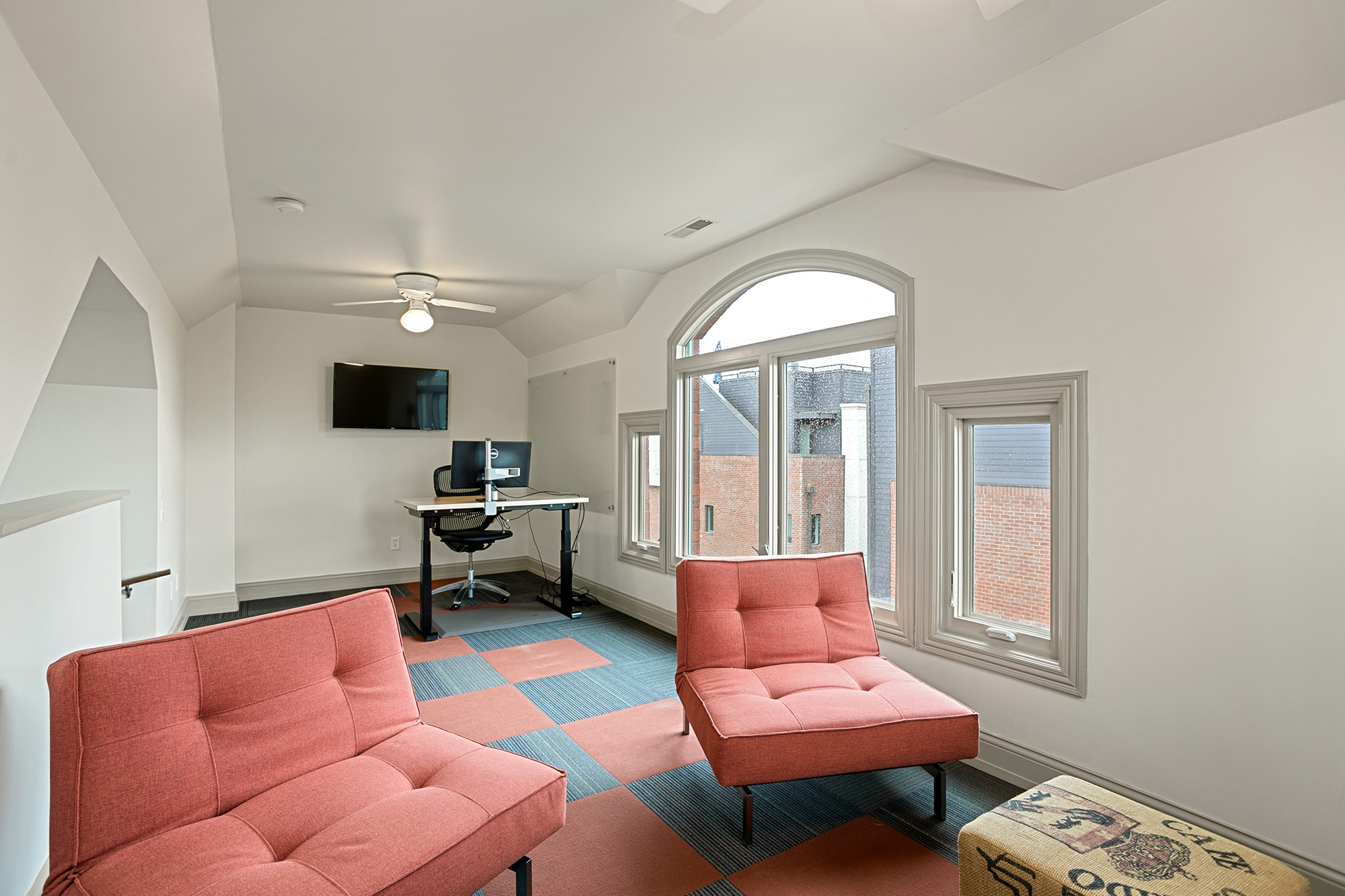 Perched at the top of the building on the third floor is the Crow's Nest. 
The ultimate area for privacy, you can get away from it all here. Furnished with couches and chairs, a sit/stand desk and two whiteboards, you will bring your meeting or work to new heights.
This space also features a huge picture window that overlooks the garden and Germantown.
Why stay inside on a perfect day?
We have areas for meetings and gatherings outside too. The following areas are available for your exclusive use:
Perfectly Private Outdoor expansion area
This is a huge space (58′ x 70′) for additional capacity or just for fun. Use it for outdoor games, dinner or cocktails, tented (60′ x 40′ or smaller) or open with string lights. Want a food truck to cater? This is the spot. This is an amazing area is enclosed by an 8ft' fences. It is located just outside the studio and also connected to the garden. Dream it up and we can make it happen.
Side Garden
A grassy, landscaped area located along the side of the building this area is great for an outdoor gathering. Its string lights add just the right ambiance. Add our beautiful gas heaters for those cool nights. Make this an area for a cocktail party with its own bar. A gate leads outside the fenced area to 6th. Head to events like the Music City Food Festival, 4th of July Fireworks, New Year's Eve Celebrations at the Bicentennial Capitol Mall State Park or First Tennessee Park. Both are less than 2 blocks away from 1212 Germantown.
Chairs: Up to 175
Networking: Up to 120
Dinner: Up to 100
Gaming & Lounge Setup: 20 – 75
Front Porch (1st Floor) & 2nd Floor Porch
We also have 2 porches and a deck that are great for additional capacity for events, working, breakouts or just to escape.
Porches: Up to 8
The Loft Deck
The Loft is an indoor outdoor with an expanded deck (18′ x 18′). It's great for additional capacity for an outdoor meeting, event, working, breakouts or just to escape.
Porch: Up to 16
"We used this venue for a video shoot and it was PERFECT! The owner was so accommodating, she made our shoot easier than we had planned! The space is so large and perfect for shoots, plus there is a lot of cool furniture that you can use instead of finding props. Plenty of parking, a great garage door for load in, and just a beautiful set up. I definitely recommend using 1212 Germantown for your party or a location for a shoot!"
Storybrand | Business Made Simple
"In working with business groups at retreats and events for over 30 years, I've learned that location and venue are critical keys to success. 1212 Germantown delivers on both counts. The Germantown neighborhood is the best of Nashville and 1212 has the perfect design and vibe for great meetings. Bonus factors are The Germantown Inn next door, a legendary cupcake shop right across the street, and Julie is a pleasure to work with!"
Next Success/Retreats and Coaching
"Very welcoming and accommodating to my team. The available options for space as very flexible to meet all needs. Glad to have used this venue and meet the great hosts"
"I feel hip when I am at 1212 Germantown. They have been able to blend historic with cool and modern in the same spacious building. I love the loft area that feels like a bar, complete with televisions and shuffle board tables. From this spot, I can watch all the action with the people in the studio below. I think it's a perfect spot for pre-event gatherings, fundraisers, football and baseball draft parties, high school or family reunions and all kinds of business events. It's so close to all the downtown action like the stadium, TopGolf, TPAC, the Bridgestone arena and, of course, Broadway.
Proprietor
Edley's | Pancho & Lefty's
"The space was perfect for our small team meeting. Everyone had room to spread out and the setting was more relaxed than everyone being stuck at a desk. We will definitely book here again. "
"1212 Germantown an eclectic blend of historic and modern so convenient for events downtown. I have used the space as a gathering spot prior to a party for the Nashville Eclipse. We used JoyRide so we would not have to park downtown and it was less than a 5 minute ride to Broadway. I have also used the conference rooms for board meetings. My favorite conference room is the one with couches and chairs and large wireless display. The atmosphere is perfect for relaxed collaboration and inspiration for retreats and corporate events."
CEO
Virsys12
"This space is well represented in the photos and was the ideal size for my meeting. It was simple to connect to the monitor and the white boards were great. The host, Julie, was very attentive. She followed up before the event to make sure arrangements were set, she was also on site during the event and made coffee for attendees and was available in case of questions. The location is well designed and has good energy. I highly recommend."
"1212 Germantown is my favorite place to have work meetings in Nashville. Whenever I walk into the building, I feel energized to meet with my team and tackle the discussions of the day. I especially love the Bowling Alley conference room. The unique table (old bowling lanes) always sparks my imagination. The space is amazing because it inspires creativity in a comfortable atmosphere. The kitchen next door makes it very convenient to have a healthy meal during the meetings. 1212 Germantown is one of a kind in Nashville because of the location and the actual space. It is located in historic Germantown with lots of restaurants and coffee houses within blocks. It's just a great spot in a wonderful neighborhood.
Co-founder at ProviderTrust
Co-owner at Nashville Soccer Club
Entrepreneur & Investor
"I really enjoy 1212 Germantown. The facility has everything I need to be comfortable and get work done: easy connectivity, cords, plugs, etc., and parking is no issue! I enjoy the variety of large meeting rooms and cozy nooks it's perfect for independent work or meetings – and the vibe is easy and relaxed. While there are two kitchens and plenty of coffee stations, there are also so many great places nearby to walk and get coffee, lunch, dinner or drinks!"
Founder
Uncle Classic Barber
"What a special spot! It's one of the great old homes that really represent the Nashville I grew up in, yet it is open and flows. The space doesn't dictate a style, it can take on whatever you want-traditional, barn, modern, etc. The big open studio, with great windows and the back staircase, provided great light and architecture from which to create our own personal statement. I really love that it has the outdoor areas and the huge garage door that leads to them. These elements, put together, create the perfect inside/outside combo. We were able to have conversation space at the same time a dance party was happening. The exquisite staircase and multiple porches allowed for some great onsite photos."
EVP Entertainment Industry
Schedule your tour or reserve a date now!
We have openings available.